Picturesque Port Hope grew up around the Ganaraska River that streams through the downtown powering mills and distilleries in the early days. We've got a proud history to explore.
We've been around longer than Canada
Our waterways and idyllic location on Lake Ontario have always been Port Hope's advantage. The town became a hub for 19th century trade and transportation. While farms and orchards flourished in the countryside, Americans built summer estate homes and the railway brought travelers to the hotels. The locals enjoyed the social scene and the Opera House.

Today, tourists and locals appreciate the pristine nature, local food, arts and new momentum.
History of rural Port Hope
The present day Municipality of Port Hope is comprised of, what was once, Hope Township and the Town of Port Hope. When amalgamation took place in 2001 these two areas became one. Henry Hope, after whom this large area was named, was a prominent political and military figure in the 1780's. Henry was born about 1746 in England and was the son of the first Earl of Hopetown.


The settlement of Hope Township, which has an area of over 69,000 acres, began in 1793 with a group of six families arriving from the United States. With the end of the American Revolution families loyal to the crown made their way to Upper Canada seeking grants of free land. Each immigrant over a certain age was offered 200 acres and once their settlement duties were completed, received the deed of title to the property.

The maximum military grant to those who served was 1200 acres. The Township was surveyed beginning at the Base Line, near Lake Ontario, and divided into 200 acre parcels along the concession roads, which run east to west.

Our first settlers came by several different routes most eventually arriving by water to the harbour at Smith's Creek (Port Hope). Some arrived on foot as they drove their cattle along the shoreline or by trails between the towns of York and Kingston and from the Bay of Quinte. Some of these trails, originally established by indigenous peoples, continue to serve as roads today. Smith's Creek became a place for trade and commerce due to its situation on the lake, with a good harbour and the Ganaraska River that provided water power for the mills that were constructed. Settlement through Hope Township took place at a slower rate where farming and agriculture were the primary occupations of property owners.

One of the first essential tasks of these early settlers, after building their shelter, was clearing a portion of their land in order to grow crops. Wheat, the most important, was at first traded by barter and it was not until 1826 that the typical farmer could sell any for cash. Not all roads were open for travel and those living in the township had to make their way to town to have their grain milled and purchase goods, which would have been a difficult journey. As things progressed throughout Hope Township and the population increased, mills, churches, schools and businesses arose. Located primarily at the four corners, where concession roads meet the north south roads, villages, hamlets and communities were established. Many of them became prominent centres for purchases and the need to travel to Port Hope decreased. Today many of these villages have disappeared and little remains of the businesses that once thrived.

Note - this is an excerpt from the Port Hope Rural Driving Tour. Authored by the Port Hope Archives.
History of urban Port Hope
100,000 years ago, retreating glaciers formed the landscape of Port Hope. The first inhabitants called this vast area omingaming (cochingaming), the meeting place, referring to the meeting of the river and the lake. Later, the Huron named the river Ganaraske, or spawning ground. The twice-yearly salmon and trout runs, as well as the abundant game provided sustenance to the First Nations who held the land collectively, while the forest offered shelter and the river transportation. Interactions between the first Europeans, mainly French fur traders in the 1680's, were sometimes cordial and sometimes hostile. The first treaties between the First Nations and newcomers were established after the British gained control of all the Orth American Colonies. The first treaties gave the First Nations exclusive rights to the North Shore of Lake Ontario, leaving most of the province untouched until after the American Revolution. Fearing that the newly formed United States might try to expand northwards, the British hurriedly passed he famous Gun Treaty which allowed for settlement on the north shore of Lake on Ontario. The British colonization system of the time granted huge land tracts to businessmen, who in turn set up local governments loyal to the crown. Johnathan Walton and Elias Smith – no relation to Peter Smith an earlier petitioner for whom Smith Creek is Named – were just such entrepreneurs

In 1792, they petitioned Governor Simcoe of the First Upper Canada Council for land grants to establish the 5th Township of Hope. A year later, they bought 40 families to settle the area. The river had drawn Walton and Smith here just as it had their First Nations predecessors. The river formed a natural port though which anchor, and was a power source for the newly established grist and sawmills. In the immediate half-century, the area saw a population boom. While small industries continued, Port Hope's leading source of wealth came from exporting timber, whiskey and grain to the U.S. and Europe. It was during that period that many of the stately homes and buildings were constructed.


By the late 19th century development here slowed as Toronto became an industrial center, the Prairie Bread Basket opened to the west, and the forest were depleted of their timber. Our town continued to slowly mature. While other communities courted heavy industry, Port Hope was content with companies such as ESCO and Davidson Rubber. This fact coupled with the work of fervent champions of historical preservation has resulted in the Port Hope you see today- a place where old buildings live contemporary lives.

Note - this is an excerpt from the Port Hope Self-Guided Walking Tour. Authored by the Port Hope Heritage Business District.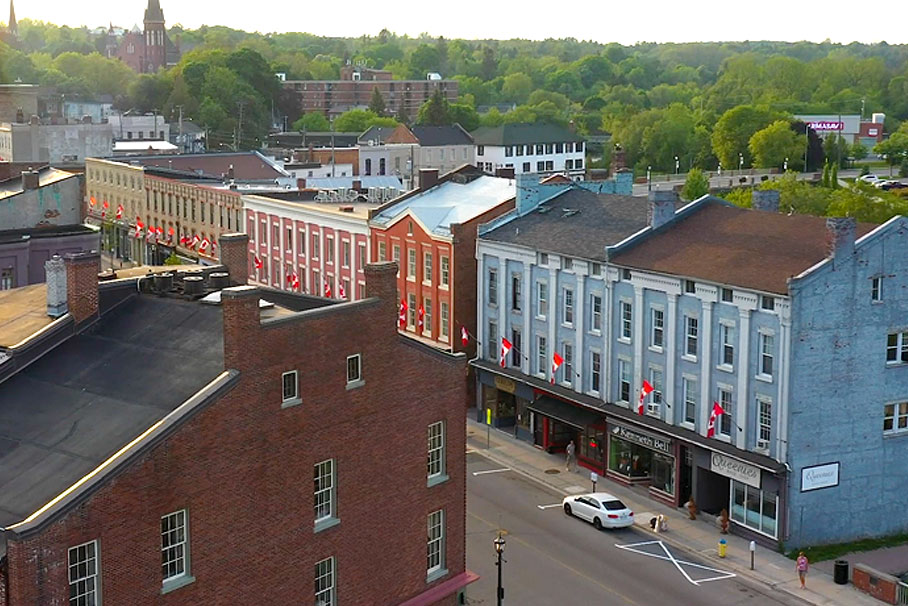 The Best Preserved Main Street in the province
TVOntario attached this claim to Walton Street for staying true to its historic architecture. Take in the postcard-pretty details of building façades and shop windows. Enjoy the treelined streets and shops of our vibrant downtown – and soak up the charm!
Unique architecture and heritage downtown
Come explore the Victorian-era architecture downtown and stories of our past while on a self-guided Heritage Walking and Driving Tour.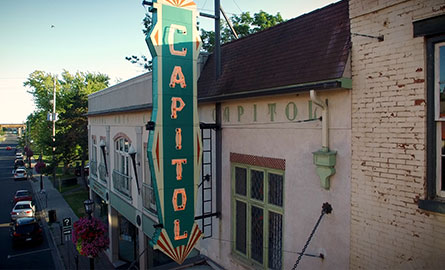 See a show at the restored Capitol Theatre, a designated national historic site - built as one of the first movie theatres by Famous Players in 1930.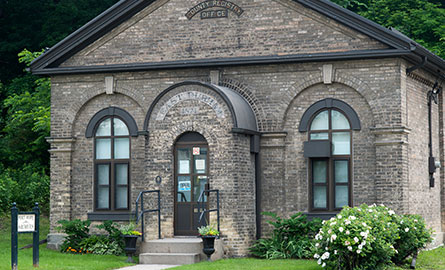 Historic maps, postcards and vintage newspapers can be pretty cool to look at. Visit our museums, archives and library for more curiosities.
Historical Figures who have called Port Hope home
Port Hopers will tell you, we're a vibrant community, long attracting big personalities. Below are a few historical figures that have called Port Hope home.
Farley Mowat
Known as an author, environmentalist, veteran and philanthropist, Farley Mowat was larger than life. Having moved to Port Hope from Newfoundland in 1967 by sailboat, Mowat left a lasting impression on this town and is celebrated to this day. His 42 literary works have been published in over 60 countries and have captivated generations of readers with tales of perilous northern adventures and humanity's toll on the natural world. A collection of his works can be seen at Furby House Books, where he would host book signings.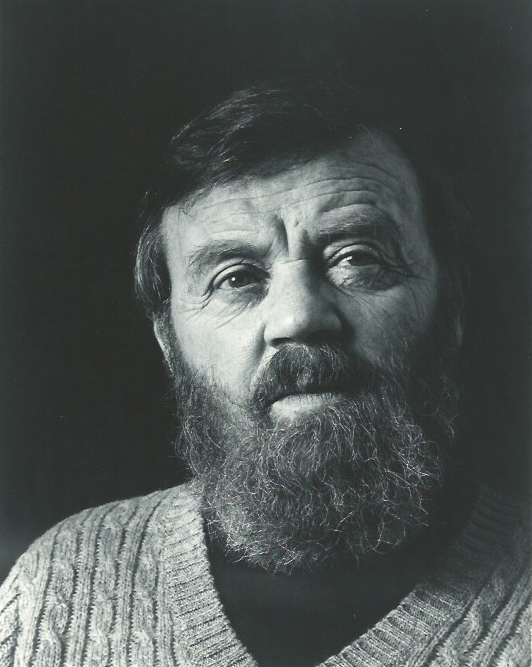 Photo courtesy of Farley Mowat Limited
Born in Belleville, Mowat attended the University of Toronto and received a degree in biology before enlisting with the Canadian Forces in World War II. He was discharged with the rank of Captain in 1945. Following an opportunity to research wolves in Canada's northern territories, Mowat became a defender of the natural world. The negative effects of humanity on nature became an intense passion for Mowat. He was not shy to voice his opinions in his books, interviews, and life. At one point, he was not allowed into the United States due to his so-called 'dangerously radical' opinions on environmentalism. Other themes in his work include animals, early Canadian history and his own tumultuous childhood. Five of his works have been made into movies. He remains one of Canada's most celebrated authors and environmentalists, and was cherished in the Port Hope community.
Farley Mowat died on May 6, 2014 at the age of 92 and is buried at St. Mark's Anglican Church Cemetery in Port Hope.
The Boat Roofed House is a local monument dedicated to Farley Mowat. Previously located on private property on Catherine Street, The Boat Roofed House was professionally dismantled and reassembled in East Ganaraska Park. The monument is inspired by Mowat's book, "The Farfarers" as well as historical curved stone foundations found in eastern Canada. Visit the Port Hope Public Library for Mowat's personal book collection and first-edition copies of his works. There's a great view of the Boat Roofed House from Farley's Lookout, a section on the 2nd floor of the library where a bronze bust of Mowat overlooks the Ganaraska River.
William Leonard Hunt, The Great Farini
The Great Farini is said to have lived the life of ten people. Full of adventure, daring, creativity and invention, The Great Farini never had a dull moment and made the most of every day.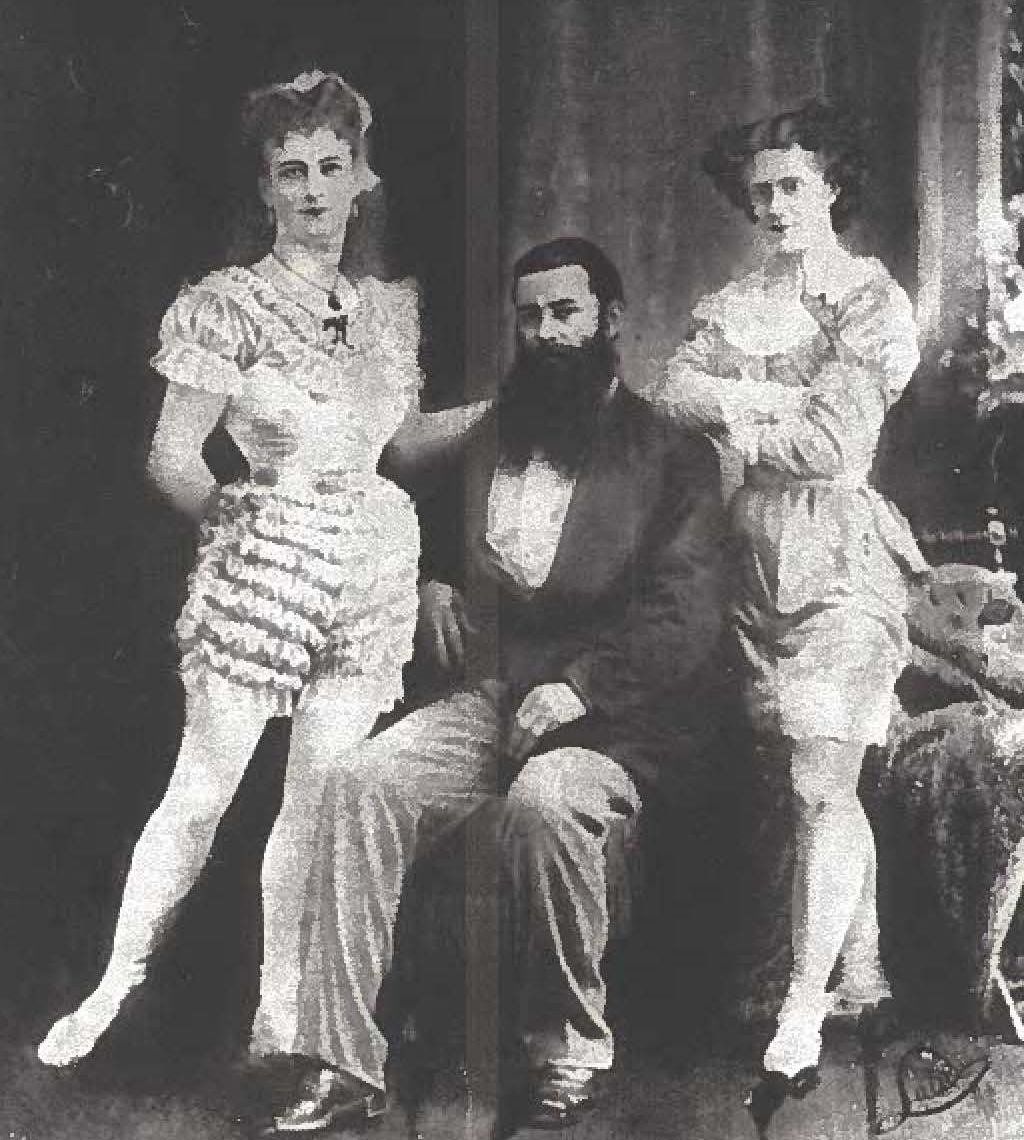 The Great Farini and protegé Lulu (left) who may have been his son, circa 1875
Photo courtesy of the Niagara Falls Public Library
Born in Lockport, New York in 1838, the Great Farini spent his childhood in Bowmanville and Port Hope. Though his parents pushed him to study medicine, Farini knew he was not destined for such a path. Instead, entranced by a tightrope walker he saw in a travelling circus, Farini pursued an incredibly unorthodox life.
His first public stunt took place in 1859 while his strict father was away in England. To breathe new life into the fading Durham County Fair, he crossed the Ganaraska River on a rope 80 feet in the air. His second local stunt is said to have attracted a crowd of 8,000 - nearly twice the population of Port Hope at the time. According to some, mid-walk, Farini stopped and balanced on his head. The Great Farini's life took off after that. He worked on a showboat on the Mississippi river and for a variety of North American circuses. Following a slew of daring high-wire stunts across Niagara Falls (including carrying a washing machine across), Farini became a household name.
The Great Farini lived in the spotlight and spent the bulk of his life performing, exploring, inventing, painting and eventually growing flowers. His exploits took him around the globe. Farini worked creating and performing acts at the Royal Westminster Aquarium in London, England, and explored many countries before the time of airplane travel. His book "Through the Kalahari Desert" describes his supposed discovery of the remains of a lost city in the heart of Africa. Farini is credited with inventing the modern parachute, the circus cannon and the folding theatre seat. An avid horticulturalist in his later life, Farini's best-selling book is titled, "How to Grow Begonias".
With a final residence on Dorset Street, Farini died in Port Hope in 1929 of the flu and is buried in Union Cemetery. His descendants live in Port Hope to this day.
More information can be found in Farini Gardens.
Joseph Scriven
An exemplary Christian, Joseph Scriven spent the last 25 years of his life in Port Hope. He performed hundreds of acts of Christian charity, giving the needy his clothing, money and his labour. His famous hymn "What a Friend We Have in Jesus" was published in 1886 - just before his death under mysterious circumstances. Visit the Joseph Scriven monument located in Memorial Park (44 Queen Street).
Extraordinary is closer than you think
Historic Port Hope is Ontario's favourite small town.