This wild river ride will get your heart pumping – whether you're paddling on the water or cheering with the crowds along the river banks. Port Hope's Float Your Fanny Down the Ganny River Race in April should be on your bucket list!
Historic river race has kayaks, canoes and DIY crazy crafts
First-time sailors and seasoned boaters take on the fast-flowing Ganaraska River that runs through downtown to Lake Ontario. The one-of-a-kind event, highlighted by costumes and homemade crafts, is a 10km paddle frenzy to mark the town's big flood of 1980.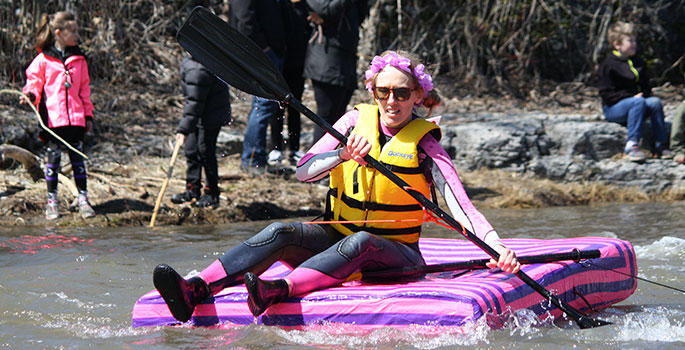 Crazy Craft Race
Cheer on your favourite crazy craft as they cross the finish line in Fannyville.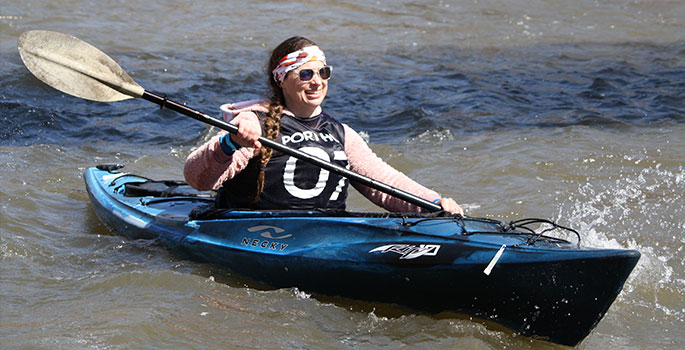 Canoe and Kayak Race
The canoes and kayaks are the first to cross the finish line in Port Hope.
Annual event celebrates the rally after the big flood of 1980
Heavy rain caused the river to rise and flood the streets in the downtown core, evacuating merchants and damaging many of the heritage buildings. Hundreds came out to clean up the aftermath. Port Hope is older than Canada and has many stories to tell.
"That's the reason the race started," says Barry Adamson, race co-chair and former crewman on the Port Britain Pops, a vessel made from 350 recycled pop bottles encased in orange snow fencing. "Port Hope residents decided we're going to enjoy the river. We're not going to let it scare us." Just watch out for water guns!
Ready to Race? Participant checklist!
• Suit up: Wetsuits are highly recommended
• Safety First: Wear a lifejacket and bring a bailer.
• Grab your paddle: The water's fast and you gotta be strong!
• Costume Contest: Now's the time to show off your silly side. We dare you!
• Fannyville Finish: Canoes and kayaks go 16km; crazy crafts go 10km to the downtown finish.
• Sign up: Register your craft and team.
Extraordinary is closer than you think
Historic Port Hope is Ontario's favourite small town.