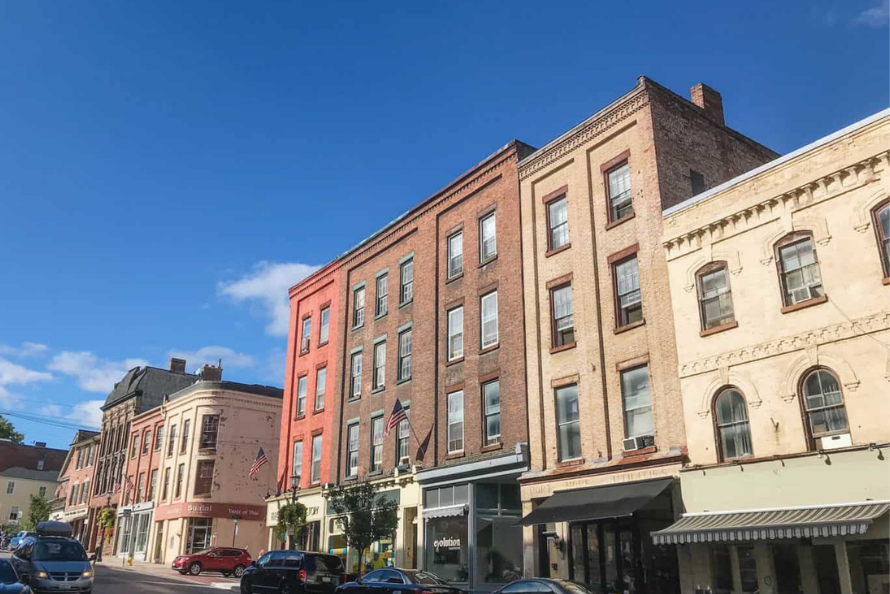 Adam and I had the pleasure of visiting the beautiful town of Port Hope. It was both of our first times in Port Hope, and we were super excited to explore and see what this charming little town had to offer. If you're into exploring cute small towns, you'll definitely want to pay a visit.
Here's how to spend the ultimate weekend in Port Hope!
Toronto to Port Hope
We'd just gotten back from Ireland and Adam was exhausted from doing so much driving, so I took the wheel for this trip. The drive to Port Hope from Toronto is around an hour and 10 minutes, so it actually isn't too bad. You simply drive east along the 401, and the drive is around 106 km. You can definitely do a day trip in Port Hope, or stay for the weekend if you'd like! There's definitely enough to do for a fun little weekend trip.
What to do in Port Hope
There are tons of fun things to do in Port Hope, no matter what sort of activities you're interested in! Here are some of the activities we did during our weekend trip.
Play with baby goats and other cute farm animals
Pay a visit to Haute Goat and try out goat yoga with goats of all ages, see other friendly farm animals and happy puppers, and shop goat milk skincare and food products! We didn't get to try out the goat yoga class, but it was so much fun even just watching other people do it. I would definitely love to actually try it out next time! You really don't get to do much yoga with all the goats roaming around and itching for love though.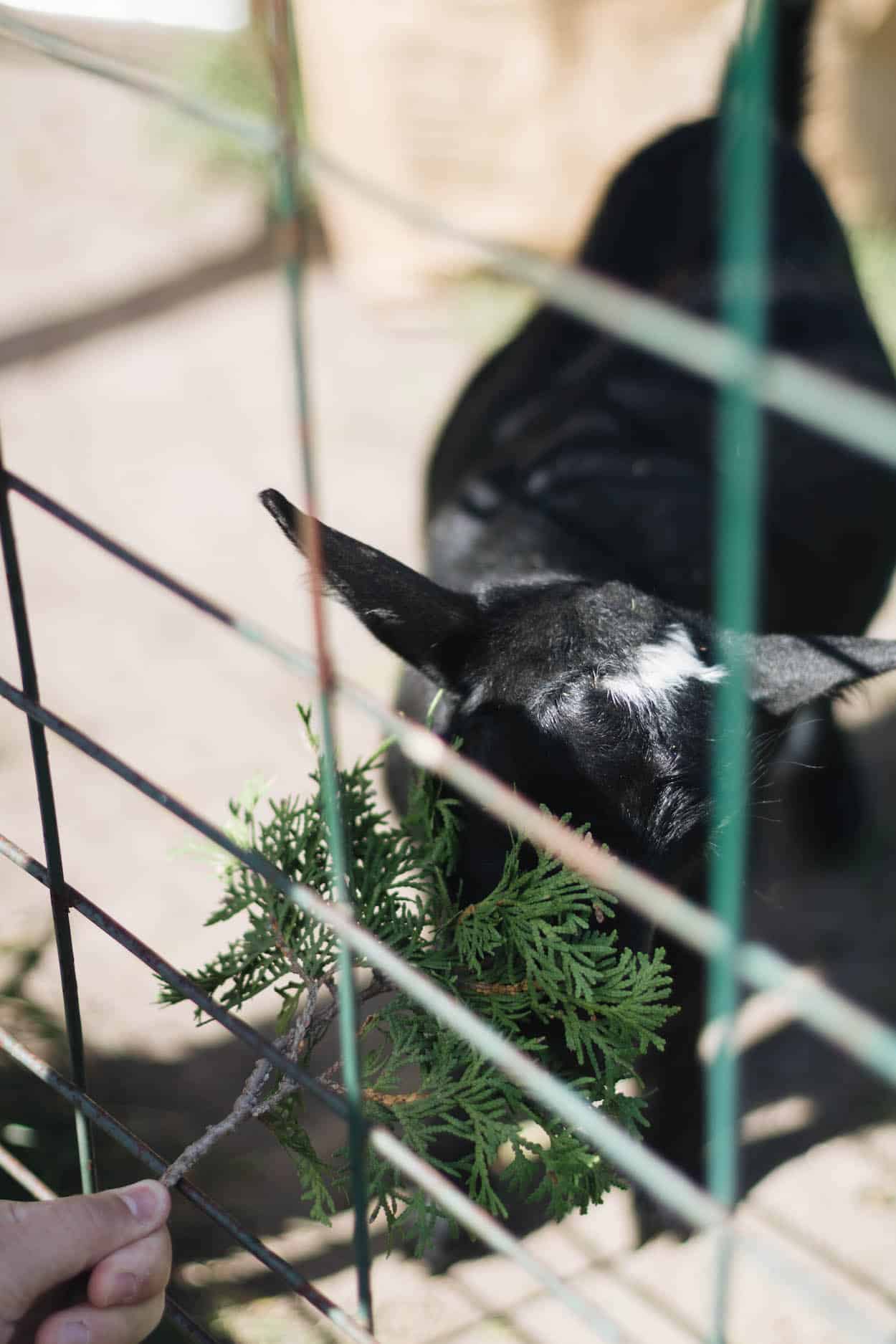 Feeding cedar to the goats, which they apparently love.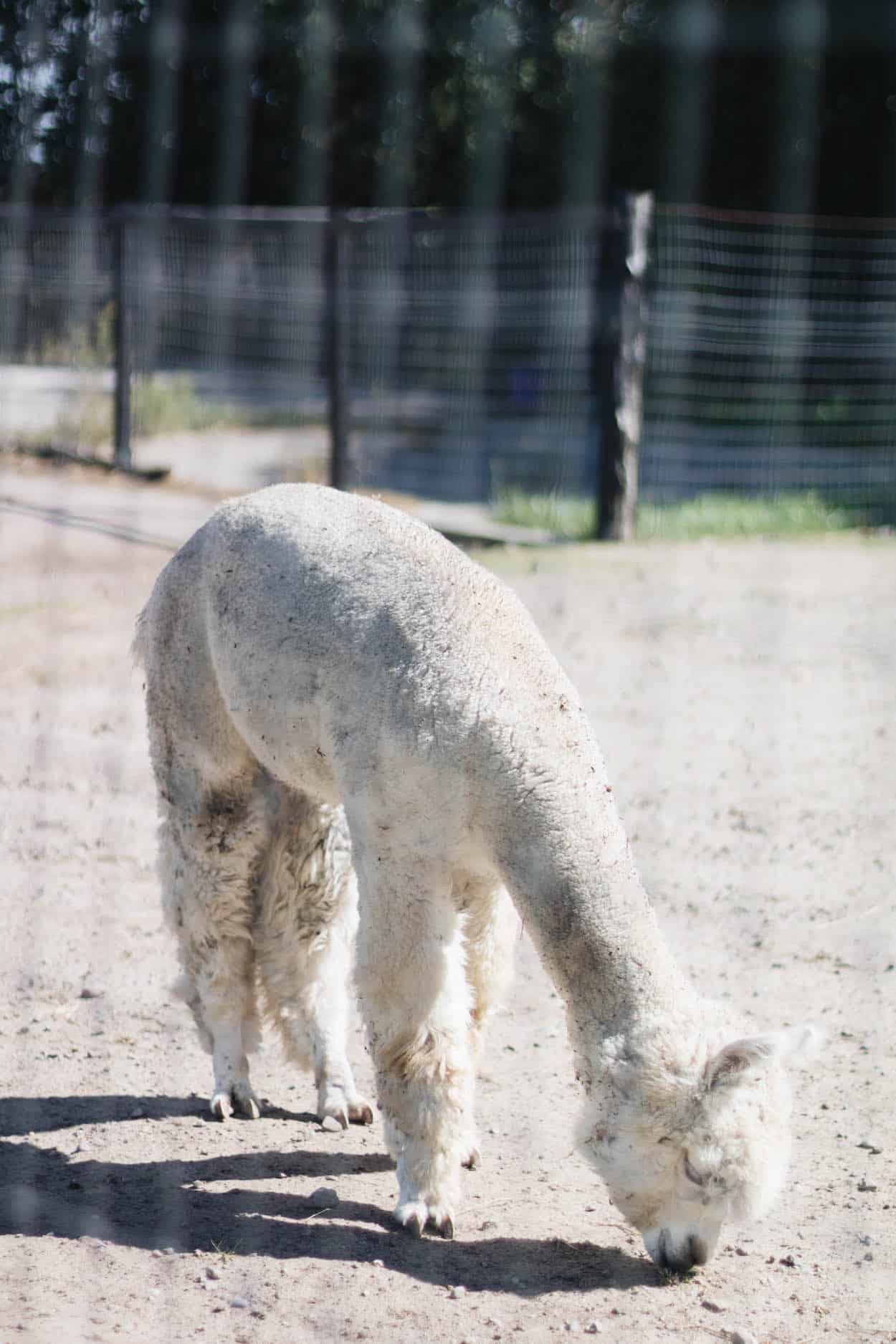 A friendly alpaca.
Have a sweet treat at Frosted Flour Co.
Craving a sweet treat to kickstart your day of exploring? Have a little snack at Frosted Flour Co.! It's a tiny but adorable little shop downtown with a bunch of interesting flavours of different pastries and treats. We tried the Breakfast Crunch donut and Pumpkin Streusel donut, and both were awesome. The first one was covered in Cinnamon Toast Crunch, and the second one had a tasty pumpkin filling inside!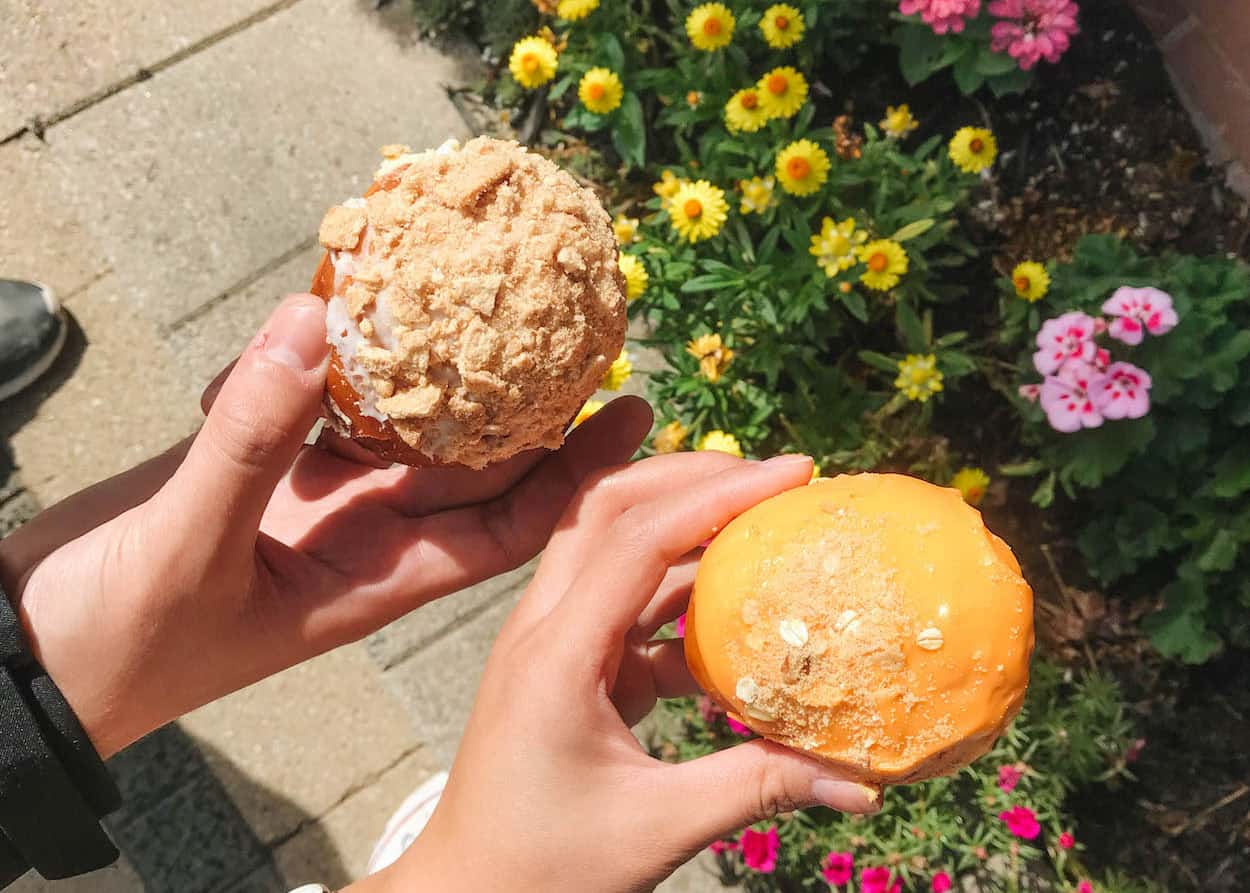 Our delicious donuts at Frosted Flour Co.
Visit the It filming locations
Fun fact: the It movies are actually filmed in Port Hope! And chapter two is available to stream on Crave Canada. 😉 I had no idea about this until I was looking for Instagram photo inspiration the night before we arrived, and found creepy Pennywise-related photos littered under Port Hope hashtags and geotags.
While we were in Port Hope, we saw American flags hanging all over town and we even walked by an eerie carnival set. I did manage to get some photos and videos of the set. However, I'm not sure if I'm allowed to post any since we got kicked off the set. 😉
I think I heard somewhere that the Paul Bunyan statue placed for the It movie is going to stay permanently, but don't quote me on that.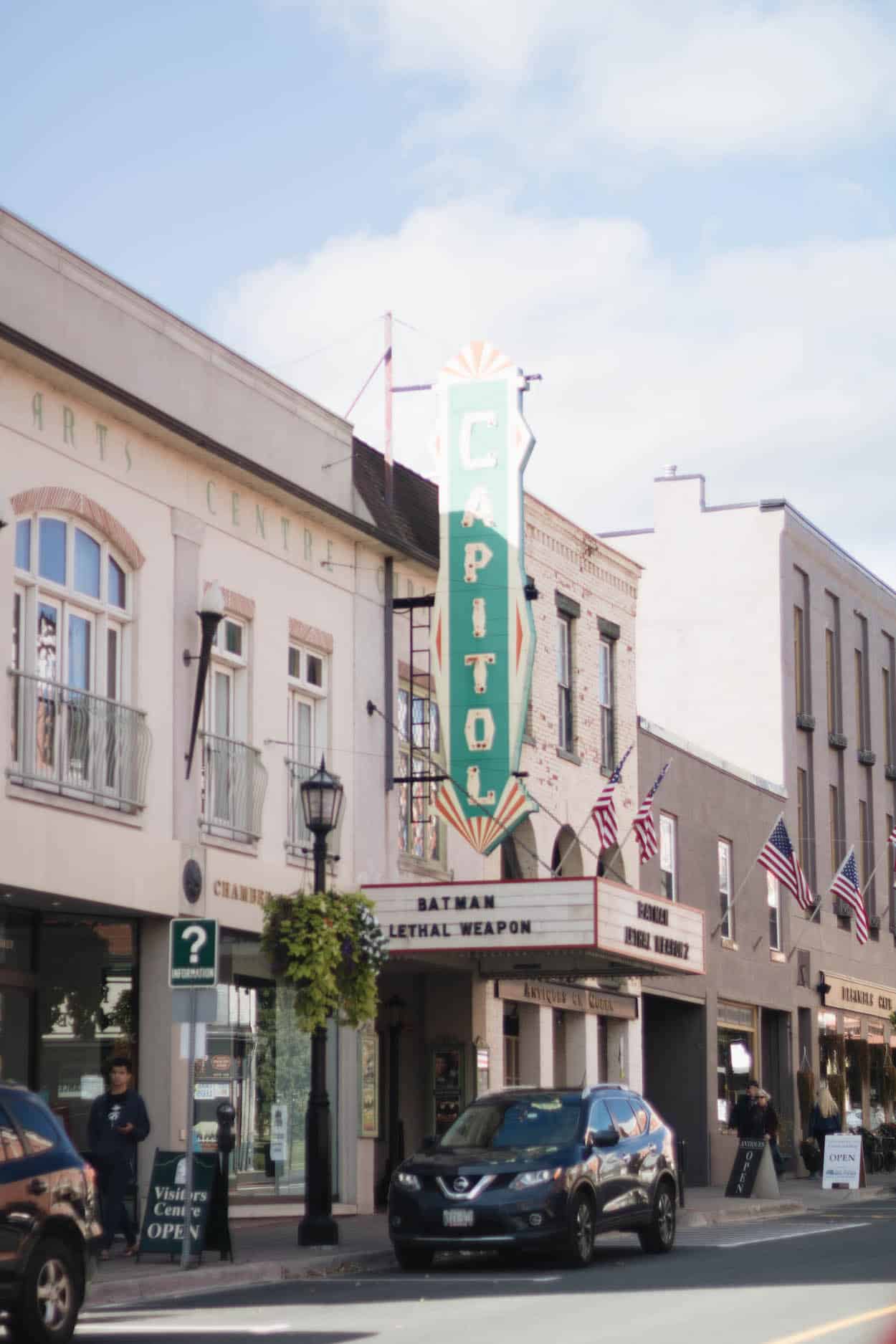 Peep the American flags for the It movie.
Take a walk around downtown Port Hope
The downtown area is a very cute little neighbourhood to wander around. Spend some time walking around downtown and just doing a little exploring and shopping!
The streets are lined with picturesque historical buildings, tons of boutiques to window shop and look around, and a bunch of great restaurants. There were some cafés and ice cream spots I wanted to try while we were there, but we didn't have time for either. If you're up for some dessert, be sure to stop by Dreamer's Cafe for ice cream and sweet treats!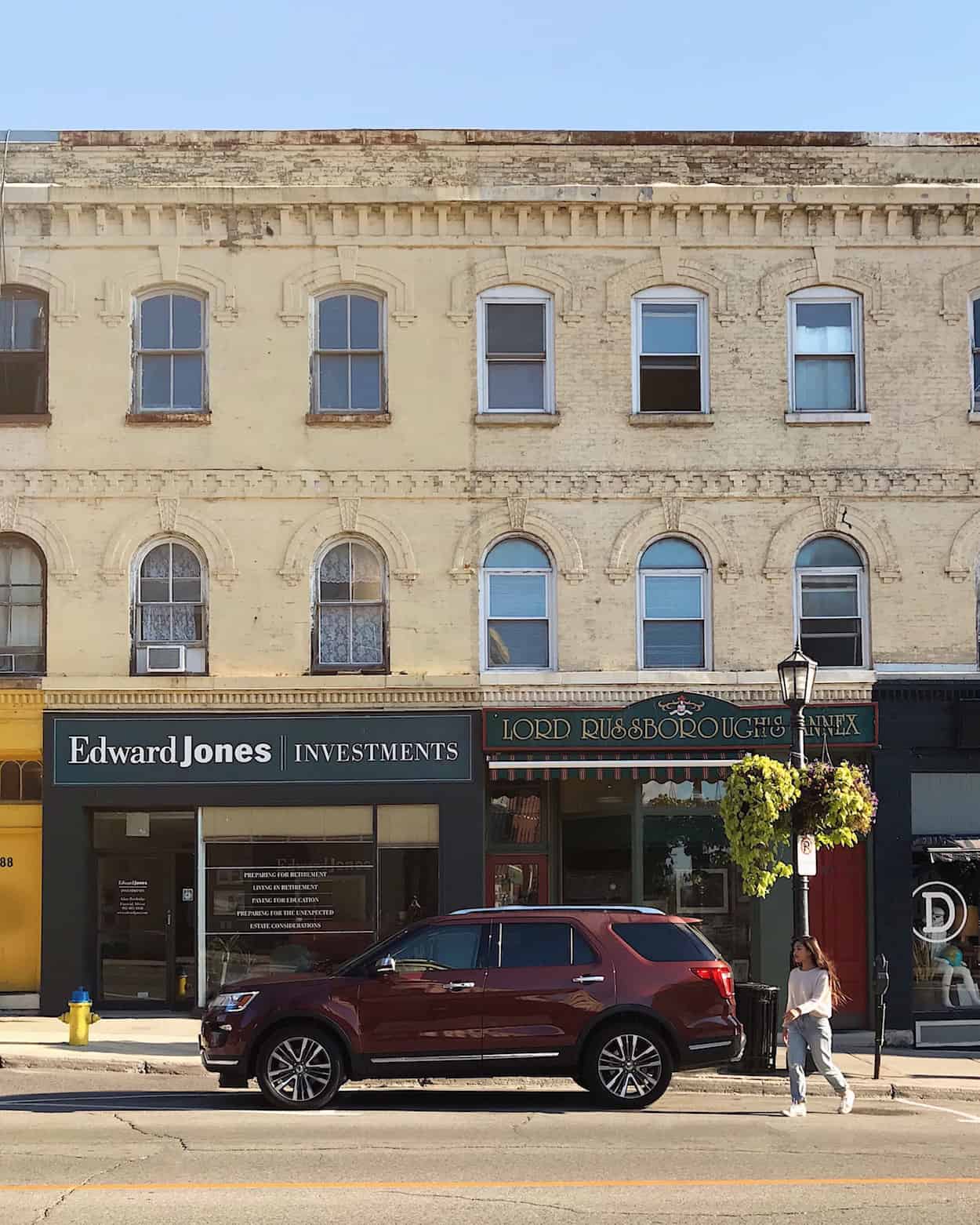 Watch the salmon migration on the Ganaraska River
Watching the salmon migration right in the heart of downtown Port Hope is probably one of the coolest thing I've ever witnessed. People from all over come during the fall to not only see, but actually fish the salmon migrating through the river. We actually ran into one of Adam's old acquaintances, who had just gone fishing here!
It'll be hard to tell from the photo, but we were surprised to see so many fish just casually swimming around all these people.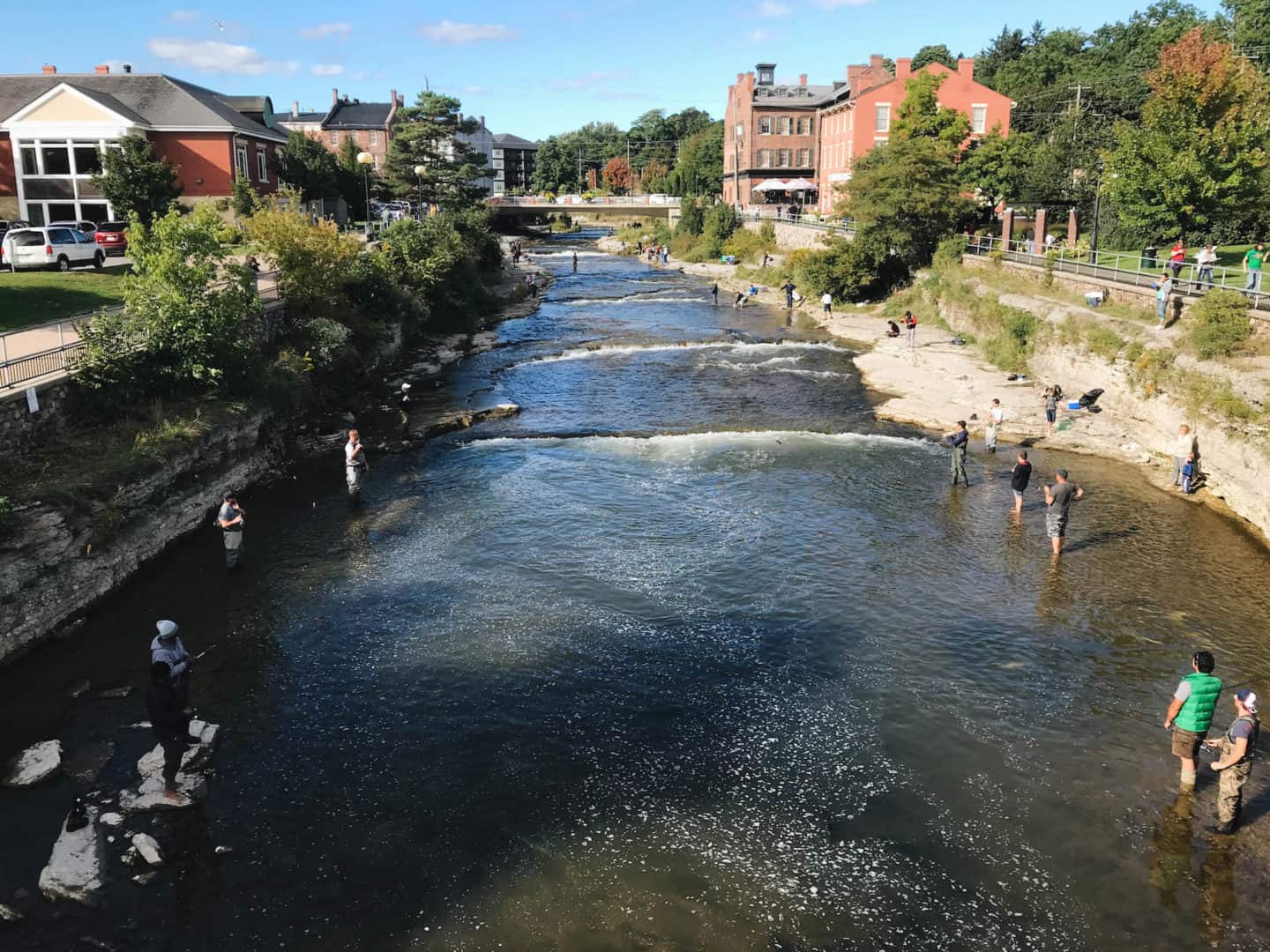 Eat dinner at Olympus Burger
Olympus Burger is honestly one of the best burger places I've visited in the country. It's been listed in print and on TV as one of the best burger spots in Canada! I got the Zeus Burger and Adam got the Apollo Burger, which were both incredible. The house made Olympus BBQ sauce is just something else! They also make the beef patties fresh in-house on the daily. This is definitely a must-eat spot if you're in town – it's one of the best restaurants in Port Hope.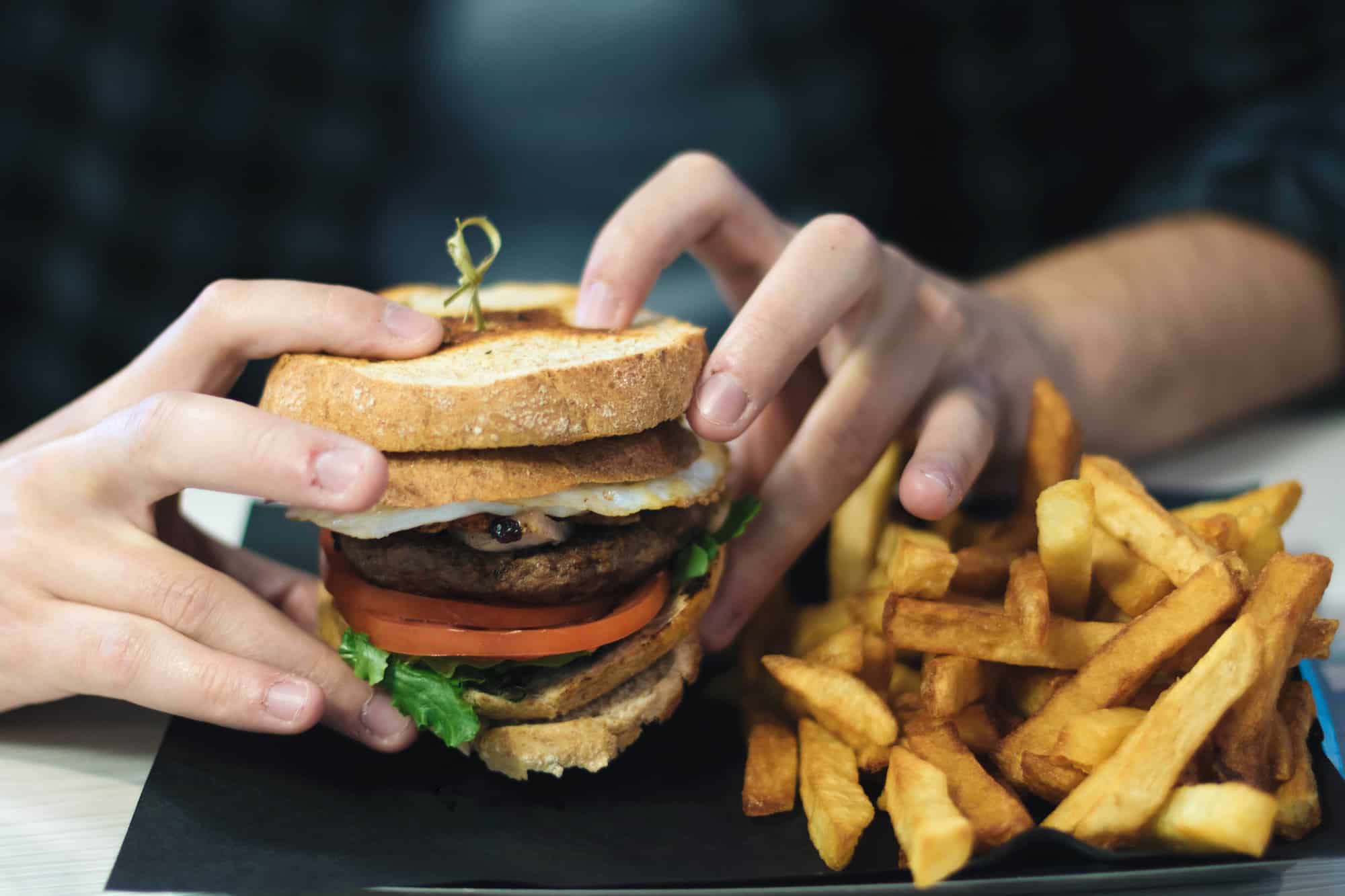 Adam's Apollo Burger with a fresh beef patty, fried egg, peameal bacon, grilled aged white cheddar cheese sandwiches, lettuce, and tomato.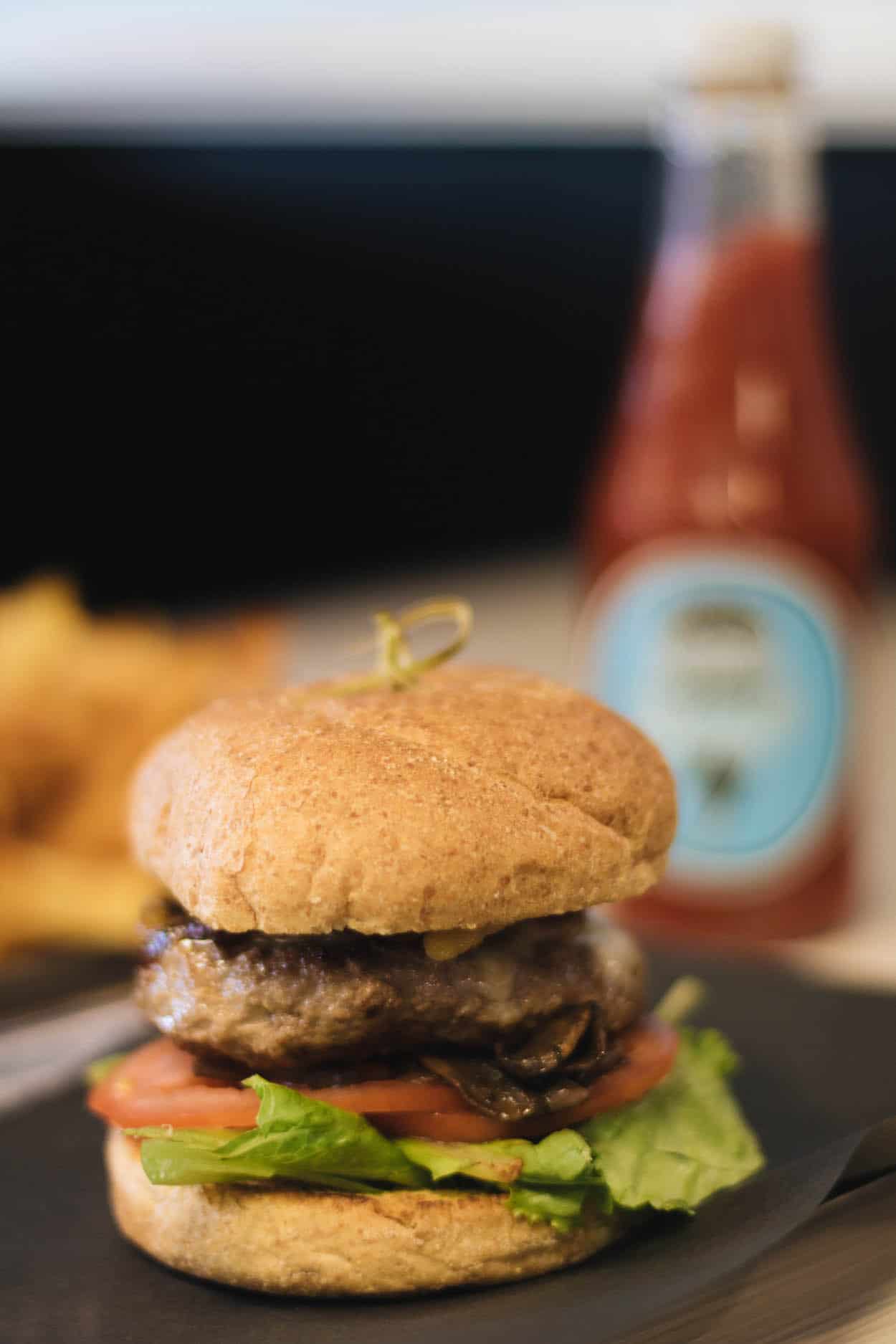 My Zeus Burger with a fresh beef patty, peameal bacon, caramelized onions, sautéed mushrooms, aged white cheddar cheese, Olympus BBQ sauce (this was SO GOOD), lettuce, and tomato.
Stay overnight at the Hotel Carlyle
We stayed overnight in one of the most beautiful and unique hotels I've ever stayed at. The Hotel Carlyle was built in 1857 as a branch of The Bank of Upper Canada, turned into a home and medical practice in 1882, established into Port Hope City Dairy in 1921, converted into the Carlyle Restaurant in 1986, and is now a hotel and restaurant under new ownership. It was so cool being able to stay in a place full of such history. The entire building is gorgeous, and the interior is super Instagram-worthy, from the hotel rooms to the lobby to the restaurant! There's also a delicious breakfast waiting for you in the morning – yum.
Definitely worth staying overnight here for your fall weekend getaway to Port Hope!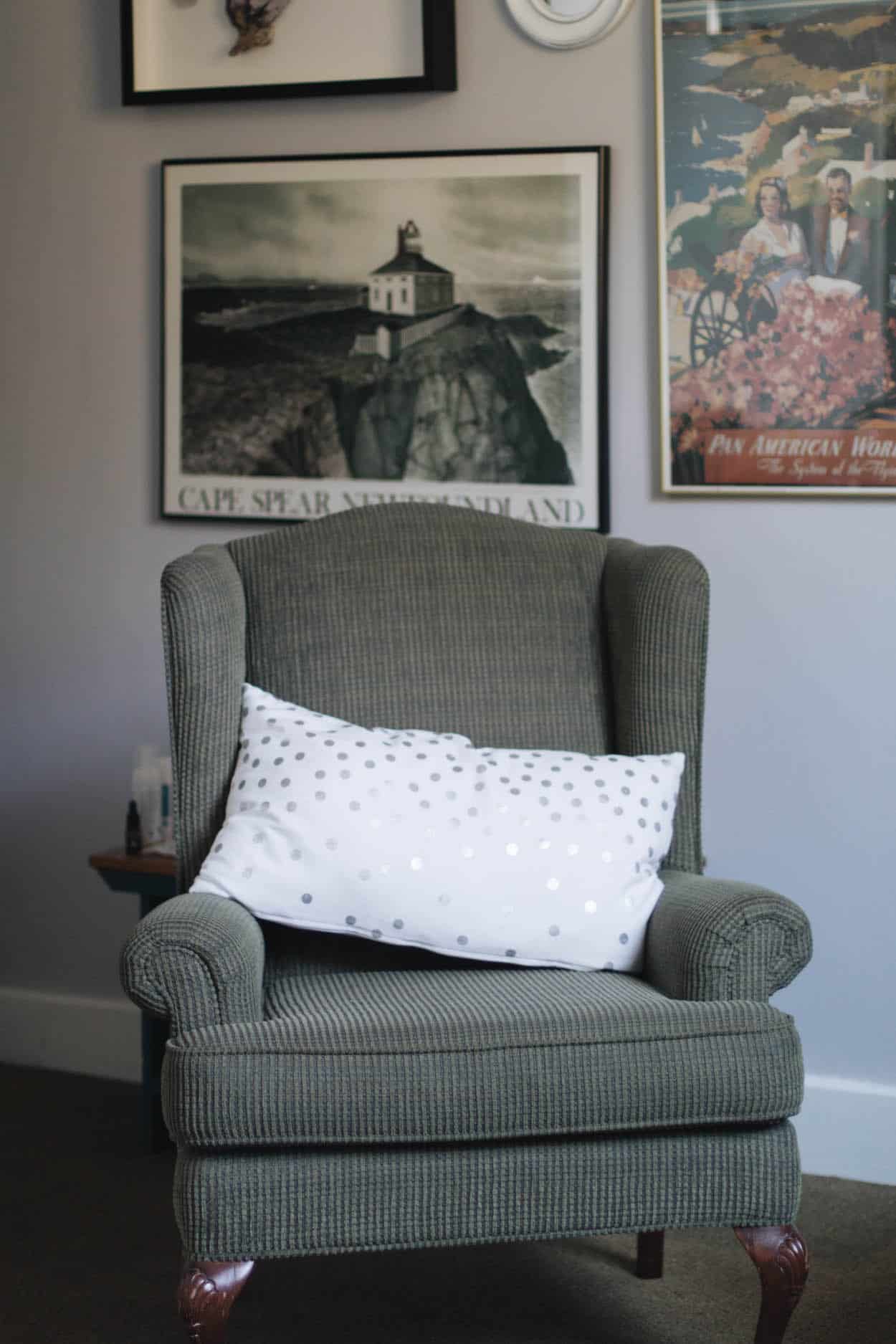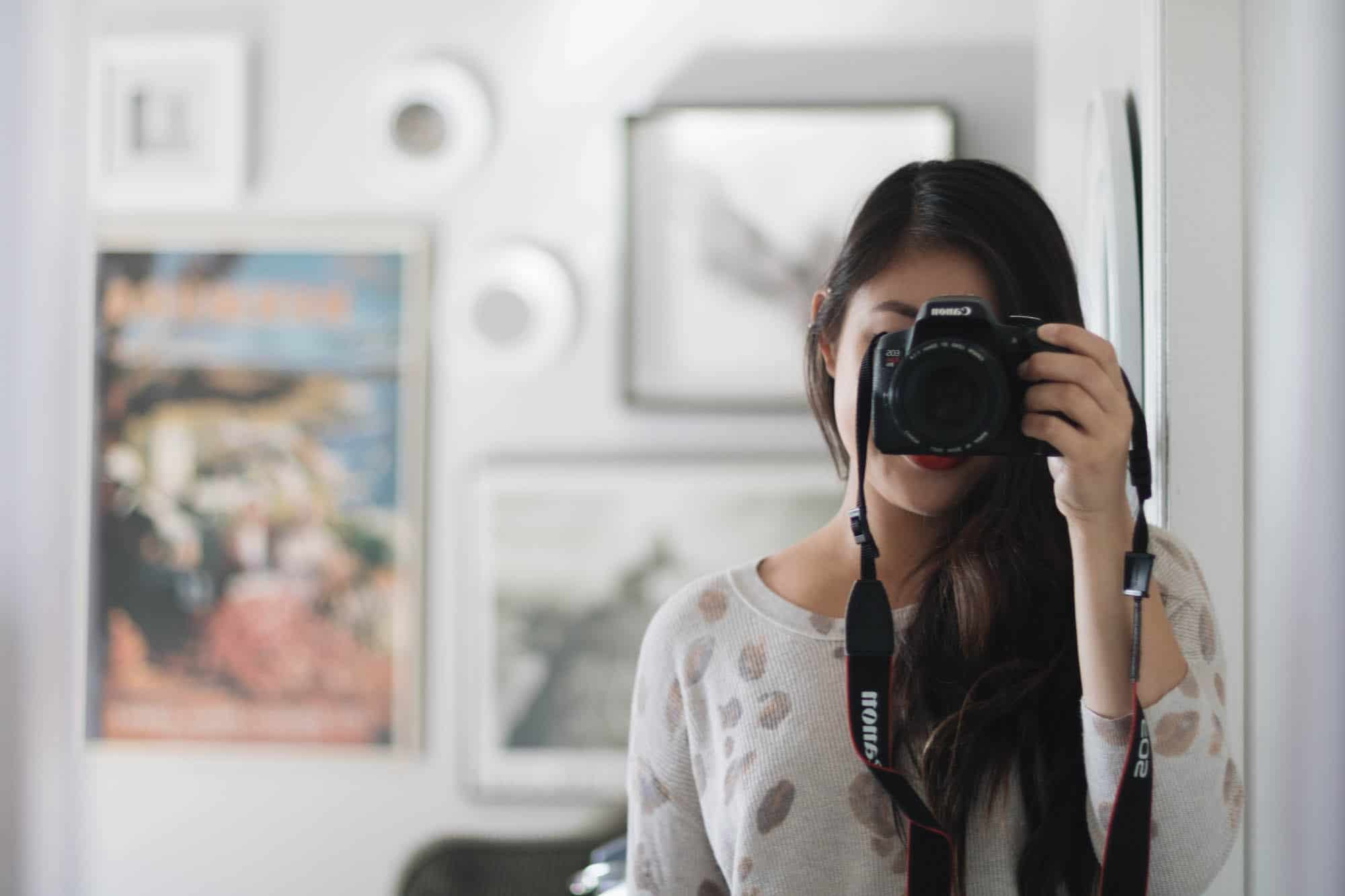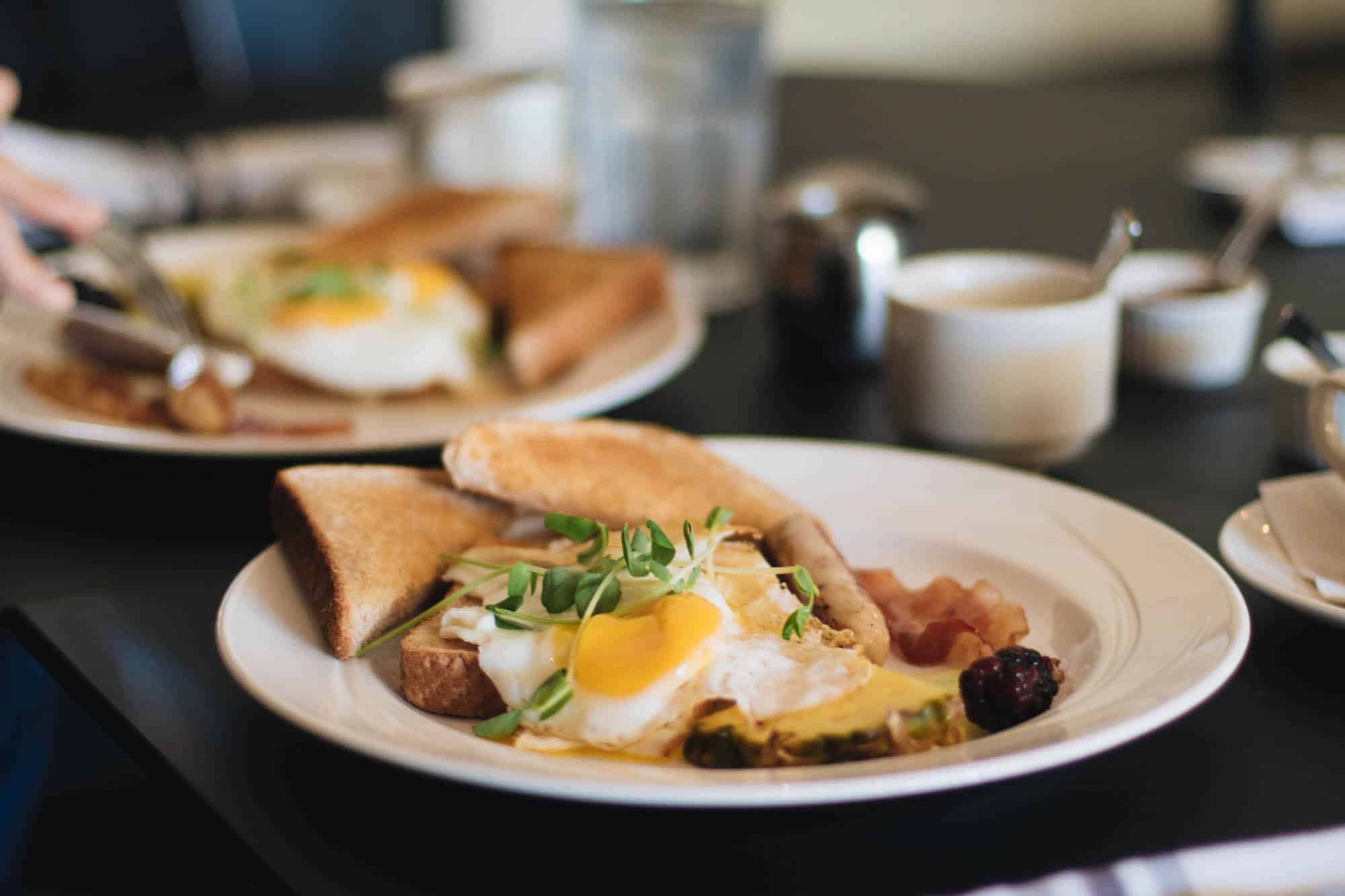 There were many things we didn't get to do while we were in Port Hope, that I'd love to do next time!
Horseback trail riding at Trickle Creek Farms, treetop trekking at the Ganaraska Forest Centre, and dining all things lavender at the Laveanne Lavender Fields are all on my list of things to do someday.
Here's a summary of where to stay, what to do, and where to eat in Port Hope:
Where to stay in Port Hope
What to do in Port Hope
Play with baby goats
Visit the It filming locations
Walk around downtown Port Hope
Watch the salmon migration
Where to eat in Port Hope
Olympus Burger
Frosted Flour Co.
We were so sad to have such a short trip, but it was such a fun and relaxing little fall weekend getaway.
Authored by, Jessica Lam, Diary of a Toronto Girl