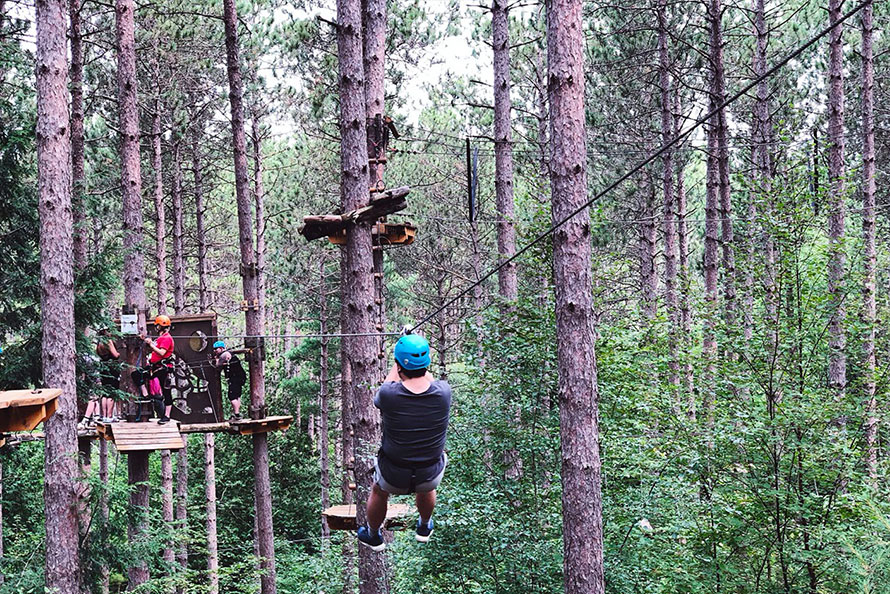 Our adventure in Port Hope started off at the Treetop Trekking Ganaraska in the Ganaraska Forest on a pretty warm Saturday morning. Located at the Ganaraska Forest Centre, this park offers ton of activities for those ages 9+.

Thanks to Port Hope Tourism, we got to partake in the zip line and aerial game treks ($59.99 per person), which is one of their most popular activities. Guests have up to three hours to complete the treks. Treetop Trekking consist of fun games like suspended bridges, Tarzan swings, swinging logs, cable traverses, and zip lines. Don't fret if you're new to this - as the park has a variety of courses ranging from beginners to advanced.
We arrived to the reception area, where we had to sign waiver forms and given wristbands. Once that was completed, we were grouped together and fitted with our helmet and harness. Prior to getting onto the trekking courses, everyone has to complete an orientation course. This process was to make sure that everyone was capable of using their equipment, and understanding of the rules. You also have to do a free-fall test to see whether you can pull yourself up or not - if you do loose footing. All of the courses are pretty high up from the ground. Overall, the check-in was very efficient and they do take safety very seriously at Treetop Trekking Ganaraska.
The two beginner courses are Porcupine and Woodpecker. Despite being labelled as "easy" courses, it was a pretty intensive workout. I can't imagine how much harder the other four courses are like.
The courses present different levels of challenge. You are welcome to progress through them all, or go back to redo the ones you enjoy most.
We had a blast at Treetop Trekking Ganaraska, and it's definitely a great place for family, friends, and teams to enjoy a day up in the tree tops.
Authored by Foodaholic. Disclaimer: This post is in collaboration with the Municipality of Port Hope. Thank you for sponsoring the visit to Port Hope. All of the opinions expressed in this review are of my own.