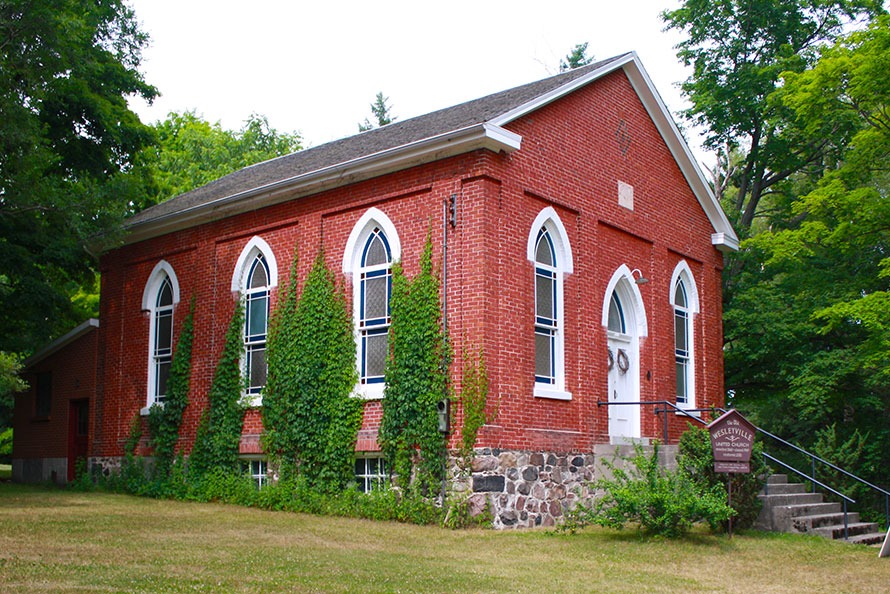 Travel the winding road along the lakeshore to the near-abandoned village of Wesleyville, where its last remaining buildings, and a very old graveyard, preserve the historical landscape.
Visit a once-thriving 19th century village coming back to life
Old buildings and time-weathered tombstones have stories to tell. Come explore the grounds of the tiny village of Wesleyville. By the 1860s, this quiet farming community had a school, a church, post office, blacksmith shop, a cobbler and a carpenter – and a tavern operating from 1861 to 1964, until the owner Tom Clark "got religion" and dumped his liquor in the road, as the story goes.
Ontario Hydro bought the properties and surrounding farms in the late 1960s to build an oil-fired power plant nearby, although the plant was never commissioned. Farmhouses were torn down and barns removed over the years, but the village remained.
See the one-room schoolhouse and Y-shaped homestead
Thanks to the dedicated Friends of Wesleyville, a cultural revival is underway. The volunteer group has restored the 1860 church, and work on the 1899 one-room schoolhouse, with a nature trail on the grounds, and the Y-shaped Oughtred house continues. Plans to restore the historic Barrowclough house and barn, first owned by one of the village founders John Barrowclough, are in the works.
Come celebrate the revival efforts at year-round events, like the summer corn roast and barbeque, the harvest festival in September, Yuletide caroling and community Easter egg hunt!
For more discoveries, take a driving tour of our country roads with our guide map (coming soon!) for landmarks, farm markets and scenic lookout points along the way.