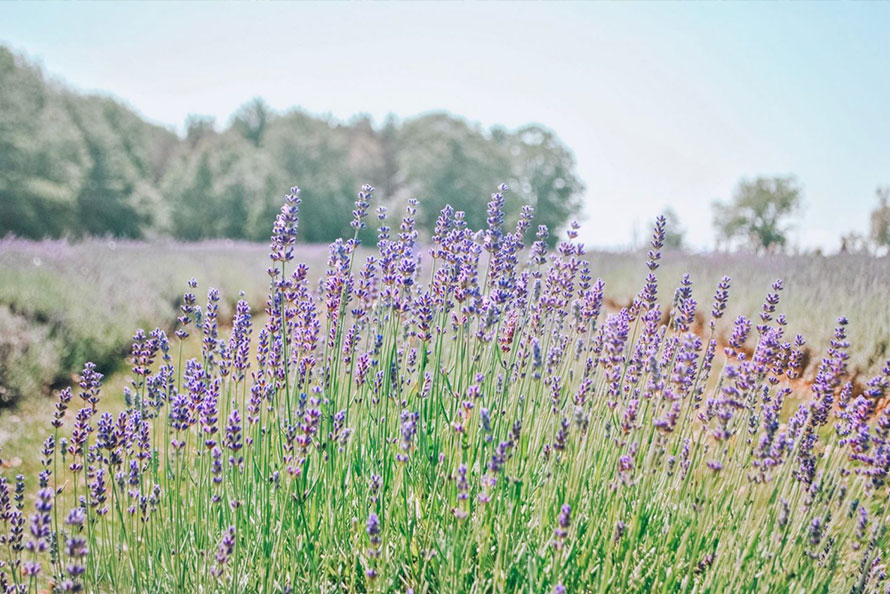 Port Hope is a quick 1 hour and 15 minute drive east from Toronto which makes it a great destination for either a mini overnight getaway or for a same day road trip to getaway from all the hustle and bustle of the city.
Laveanne Lavender Field
Believe it or not, this was my first time visiting a lavender field and my god, was it absolutely beautiful. I've recently been obsessed with anything plant and flower related so visiting the Laveanne Lavender Fields really put a smile to my face! The lavenders are usually in full bloom in mid-July and usually last until the end of the month. We were very lucky to be able to capture the lavenders in full bloom and would recommend visiting mid to end of July. I would also triple check their website before visiting to ensure the best time of the month to visit.
Additionally Laveanne Lavender Fields offer a field side terrace perfect for a picnic lunch. They also have a gift shop and offer morning yoga sessions as well as private photo session bookings.
Treetop Trekking in the Ganaraska Forest
Treetop Trekking in the beautiful Ganaraska Forest is probably one of the most fun & challenging activities that one can do. For someone that is slightly terrified of heights and has no upper body strength, this was definitely a challenge for me albeit a very fun one. After going through the training course with guidance from an instructor & passing through a few obstacles, you eventually get the hang of it and hardly even notice you're way up high in the forest.
For those that have already been treetop trekking – the great thing about the Ganaraska Forest location is that it has the hardest obstacles compared to the other locations across Ontario!
Ganaraska Treetop Trekking
Ganaraska Treetop Trekking
Ganaraska Treetop Trekking
Brandon Manor Bed & Breakfast
Brandon Manor Bed & Breakfast, established in the 1840s, is nestled away in Wesleyville which is roughly a 15 minute drive away from downtown Port Hope. The location is great for those that want to be close to the downtown hustle & bustle but also far away enough to enjoy the tranquility & natural surroundings around the Brandon Manor. We stayed at the Brandon Manor Bed & Breakfast for 1 evening. Jenny & Dan were lovely hosts – very welcoming and made our stay there feel like a home away from home. Jenny makes the best homemade breakfast & muffins and if you're lucky, she might have some extras for you to take on the go!
Brandon Manor Bed & Breakfast
Brandon Manor Bed & Breakfast
Brandon Manor Bed & Breakfast
Brandon Manor Bed & Breakfast
Brandon Manor Bed & Breakfast
Guided Hike through the Ganaraska Forest
The Ganaraska Forest Centre offers guided hikes. The hike was roughly 4km and our guide curated a wonderful "back to nature" experience for us. She knew the forest inside and out and shared her knowledge with us about how certain parts of the forest came to be.
Local 90
Local 90 seems to be the "hot" spot in town where all the locals gather for a nice dinner. Everybody we talked to seemed to know about Local and were excited for us to try it out. Even Jenny and Dan, our bed & breakfast hosts said that Local 90 is one of their favourite spots and recommended their baked portobello mushroom. The menu had great options and we were able to sample quite a few of these items. Our favourites were the shrimp pasta (special of the night), prosciutto arugula pizza, baked portobello mushroom & the meatballs. The only down side was service was a little bit slow and we had to end up waiting a bit between each course.
Toe Beans Cat Cafe
Toe Beans Cat Cafe is a unique cafe where you may can grab a coffee and some sweets and enjoy it with some cats! There is a showroom you may enter to enjoy these items with the company of the cats housed there. All the cats minus the resident cats are available for adoption through local animal services. This cafe provides gluten-free and vegan options. If you do have animal allergies, you can still support the cafe and view the cat showroom from a window in the cafe.
Picnic by the Garden Hill Conservation Area
We enjoyed a picnic at the Garden Hill Conservation Area with a basket filled with goodies that was already put together for us. Our picnic included various meats, cheeses and desserts. The menu included:
Sourdough Bread from South Ponds Farm, purchased at Suntree Natural Foods Marketplace
Genoa Salami
Le 1608 de Charlevoix cheese
Applewood Smooth & Creamy Smoke Flavoured Cheddar Cheese from Herma's Fine Foods
Decorated sugar cookies from Frosted Flour
Assorted Artisan Chocolates from Mercury Chocolates (sea salt caramel, raspberry luna, amalfi limoncello and almond torroncino)
Written by Grace Yeung • Edited by Eden Yeung. This post was done in collaboration with The Municipality of Port Hope but gracelisamay.com remains unbiased in our content.