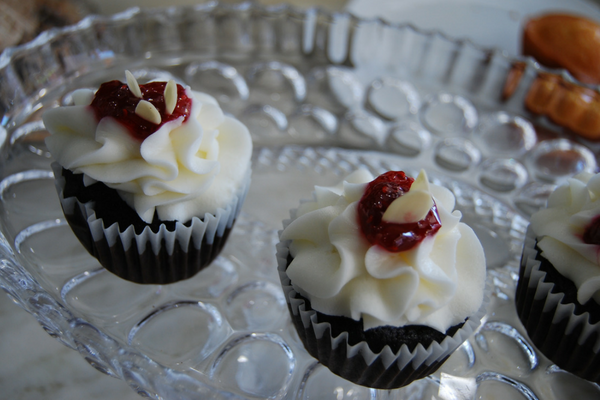 Writing a series of features about the many sweet spots in one quaint little lakeside town, the question is, where to start? In Port Hope the Ganaraska River runs through the heart of this sweet little community – and is as good a place to begin as any.
First up, Queenies Bake Shop.
Located adjacent to the river at the bottom of Walton Street on the North Side, baker/owner Adam Pearson is well-known for his delicious pastry, squares, tarts, bars and a lot more. You can even purchase a custom cake for your next celebration or a loaf of freshly baked bread by advance order. Need a caterer – check with Queenies.
Despite the wide range of tasty items Queenies produces, baked sweets are front and centre – and quite literally when you walk in the door. Providing a variety of sweets is a Queenies standard, there are always many delicious desserts on offer. In addition to tasty baked goods, you can sip on flavourful specialty drinks, and other standard beverages such as tea and coffee. Queenies also serves excellent, reasonably priced daily lunch options.
The café itself is quaint and the building, as a shooting location, has become a bit of a tourist attraction for fans of the Warner Bros IT film(s). During the lunch rush it is best to get in early to claim a table because space (and some menu items) is limited. Of course, takeout is always an option and Port Hope's Memorial Park is a short walk away for anyone in the mood for an impromptu picnic (also a filming location).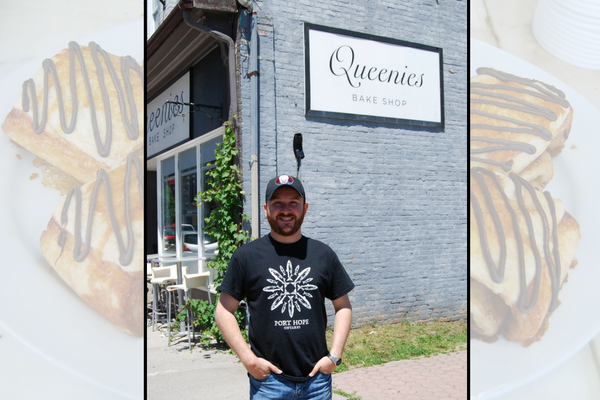 Adam the owner of Queenie's
Above all else, Adam has created a warm, inviting environment. "We're a community place and that's how we pride ourselves, it's to be the community feel-good place." he said. With his many regular customers, it looks like Port Hope definitely feels at home visiting Queenies.
Queenies is also actively involved with the community outside of the kitchen and a contributor to many charitable efforts. Each year Adam runs a highly successful annual Christmas Toy Drive for children in need.
Getting back to the sweets, it's actually a combination of treats that drive customers in. Date squares, butter tarts, cupcakes, strudel, Nanaimo bars, lemon squares, and so much more can be found at the front counter. Each dessert with its own fandom, whether it's the carrot cake, the chocolate chip cookies, iced cinnamon rolls or anything in-between. Don't go to Queenies to have that "one great flavour experience", go and try something new each time.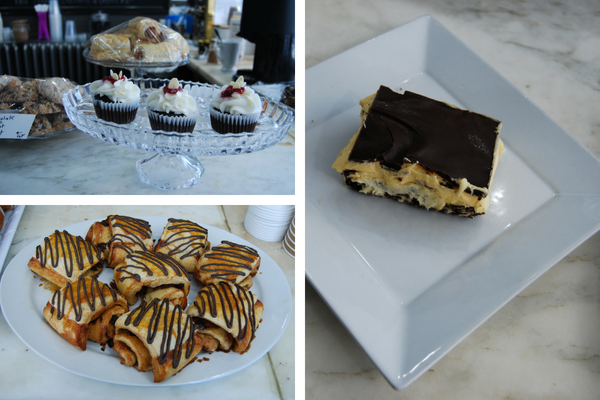 Follow Queenies Bake Shop on Facebook and Instagram (@queeniesbakeshop) for daily posts of their lunch menu and other exciting announcements. You can also catch Adam serving both meat and dessert pies at the opening night of The 39 Steps at the Capitol Theatre on Friday July 13th – an exclusive Mackinnon Brothers "Pie & Pint" event.
Stay tuned for the next feature in this series, heading across Walton Street – where fudge reigns supreme at Maggie Moose.
Authored by April Potter, July 2nd, 2018