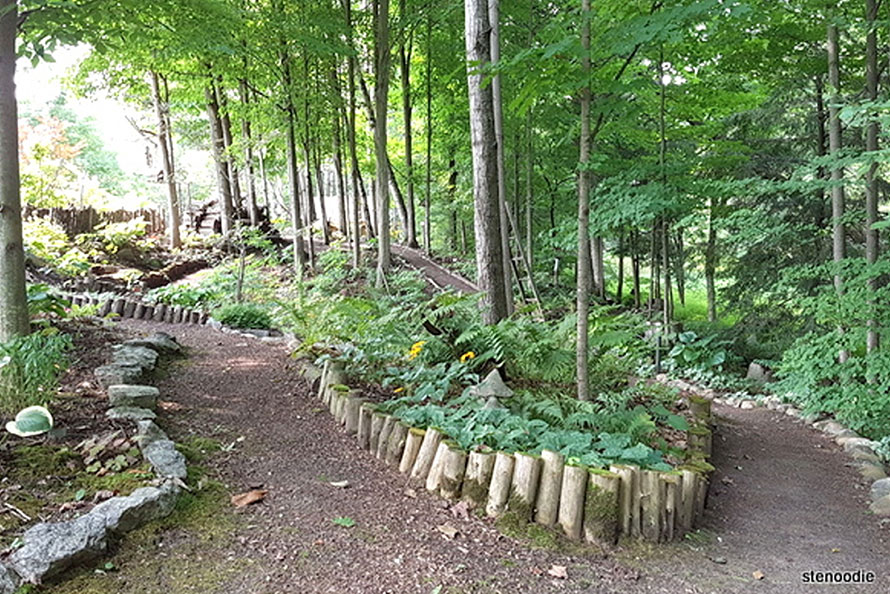 Our accommodations for a one-day stay during our most recent Port Hope weekend getaway was at Woodland Gardens Bed and Breakfast in Campbellcroft, Ontario. This was a bed and breakfast in a quaint and quiet neighbourbood with its property boasting about two acres. It was run by a very sweet couple who provides three rooms for renting out to visitors.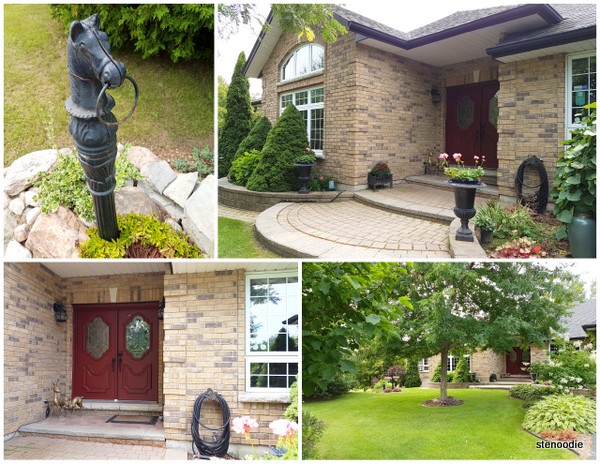 On this visit, we stayed at the Spruce Suite which is a main floor room with a private adjacent bathroom. We also had full access to the games room, living room, deck, and backyard (which was an oasis in itself but more on that later).
Our elegant Queen Bedroom Suite had robes for us to use and the bathroom included everything from towels to his and her sinks, toiletries, and extra personal items in case such items were forgotten at home. The Somers's had thought of everything for their guests! It was much appreciated.
Inside our bedroom, we had our own individual air conditioning unit, lots of dresser space for clothes or storing belongings, and there was even a key to lock our room too. There was also a card for local businesses who had partnered up with the B & B to provide discounts for guests. They had wireless Internet throughout the house.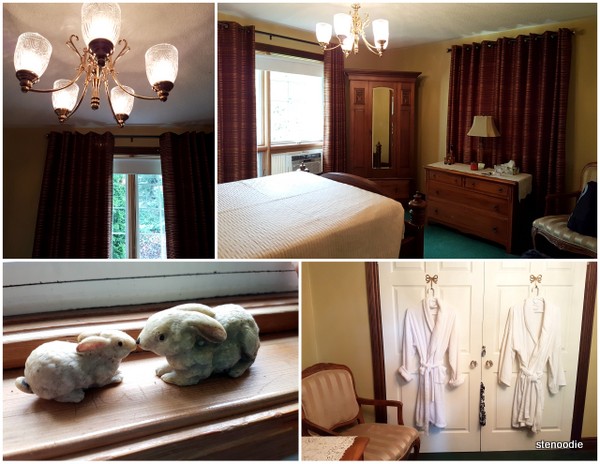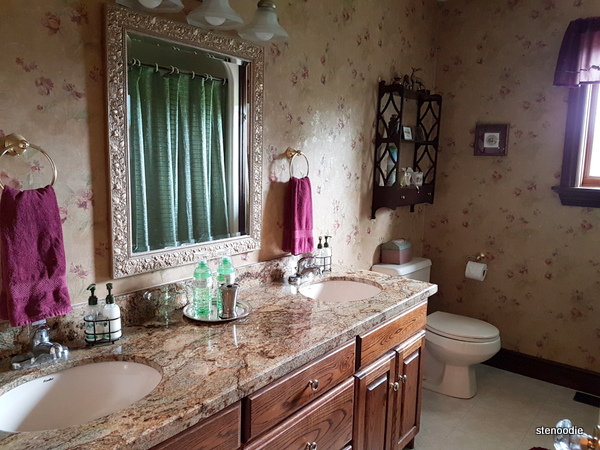 We met Jack and Lea who toured us around the house and showed us the amenities to the rooms when we checked in at 3 p.m. (Prior to our arrival, Lea had already gotten hold of my e-mail and we had exchanged some messages about breakfast preferences and setting up the keyless door entry, which was fantastic.) Their home was a sprawling mansion with beautiful pieces from Finland and personal items from their own family's history and culture too. Every piece of decor and furniture was arranged so beautifully with care and attention to detail. Everything was simply immaculate!
We had access to the mini fridge (which was stocked with water and beverages) and to the Keurig coffee machine as well in the living room.
Lea had also baked up a traditional Finnish cake, Pannukukku (Pan Cake), for our arrival. We tried this and it was delicious! The pan cake was very sweet and buttery. It was such a sweet and thoughtful welcome gift!
After spending the full day in Port Hope and heading back to Woodland Gardens Bed and Breakfast for our night, we were able to view the twinkling stars that were visible clearly in the night sky. This kind of view is only possible since we were further north and away from the bright lights and the downtown core.
In the morning, we were treated to a breakfast with specialty Finnish breakfast entrées with some western breakfast classics on the deck overlooking the perennial gardens since the weather was so nice (usually, they serve their breakfast in their elegant dining room inside the house).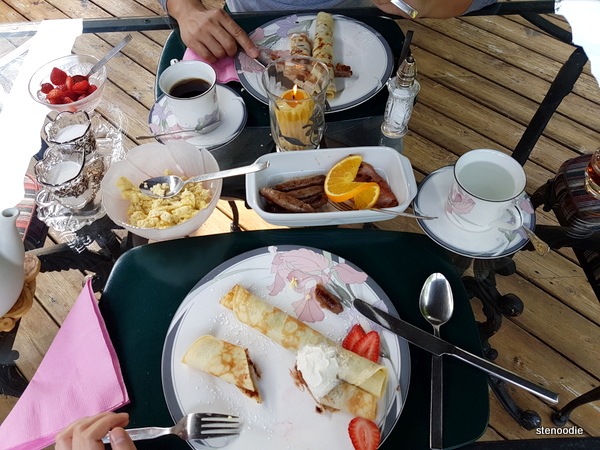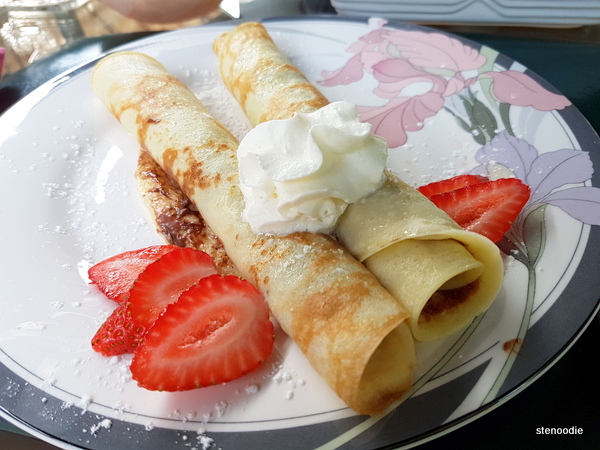 Lea really made our stay so incredibly comfortable and enjoyable. She provided fresh coffee, tea, orange juice, apple juice, hot water with lemon as beverages to start. There were multiple courses of breakfast in fact!
(Nearly all of their beautiful plates and serving trays and teapots were actually from Finland as well! Every piece was marvellous and fit our meal so well. I was astounded with all of the details and admired it all.)
We started off with a bowl of strawberry yogurt with granola and freshly sliced strawberries as well as two freshly baked Banana Chocolate Muffins. It was such a treat to enjoy some freshly baked goods!
We then tried the Riisipiirakka, a Finnish rice pastry served with Munavoi, an egg butter. The Riisipiirakka is an oval-shaped baked pastry that is made with a rye crust and filled with rice pudding or a savoury mashed potato filling. To eat it, you spread the Munavoi over the rice pastry. Lea included maple syrup for us as well in case we wanted to try it with a Canadian twist.
This was my first time trying Riisipiirakka and Munavoi and I really enjoyed it! I liked how the rice pastry was a little salty in nature and the smooth egg butter complemented it so well.
The main breakfast entrée was the Lettua ('Little Pancakes').
These crepe-like pancakes are an institution in Finland. The egg-milk-flour batter produces a thin sweet crepe or 'dessert crepe'. It is traditionally rolled up and served with fresh fruit or preserves, along with a sugar, syrup or whipping cream topping. They can be enjoyed hot or cold.


We enjoyed these Finnish pancakes with Nutella, whipping cream, and fresh strawberries. This was very sweet and filling. It definitely tasted like a different kind of pancake than the usual ones. This was more dense and spongey.
We also were served some specialty cream cheese scrambled eggs, breakfast sausages, and peameal bacon. It was a great morning feast on the beautiful shaded deck overlooking the beautiful gardens. We couldn't have asked for a more plentiful breakfast! We concluded breakfast with some Fazer chocolate mint candy from Finland.
Before checking out of the bed and breakfast (check-out time was 11 a.m. but we were given some flexibility and to explore around the area), we went out into the perennial gardens to take a stroll. It was only then that I understood how they got their name of "woodland gardens bed and breakfast". They literally had a mini forest in their backyard! 🙂

Everything was so picturesque. There was a hammock to rest on, muskoka chairs in front of a campfire, a small bridge over a stream, a blanket of gorgeous Jewelweed, and even a large field for a volleyball game within secluded trees. It was like nothing I'd ever seen before. It was like an idyllic woodlands path and garden in someone's own yard! What an unbelievable treat it was to stay here. ❤


Lea led us on a tour of the other space that guests could stay in, which was the 2-Bedroom Apartment style unit. This had an open concept full kitchen, living room, dining room, two separate bedrooms, bathroom, and a sauna and change room! It was incredible and the sauna was personally built by Jack too. The apartment style unit is perfect for couples travelling together or for small families or even a small getaway for a group of friends. It had direct access with keyless entry to the backyard and deck.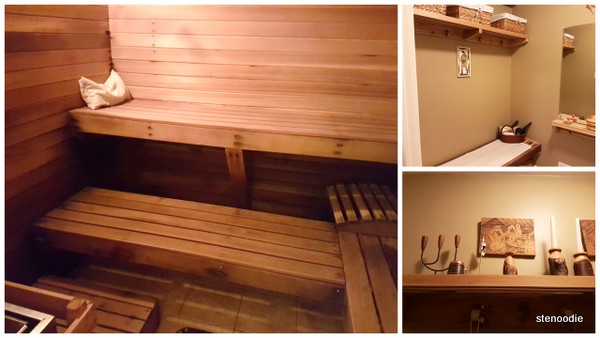 Next, we spent some time in the games room playing ping pong, foosball, and admiring the decor and collectibles in the room. They also had shuffleboard, darts, and board games. They are so talented and made the whole house flow so well together with all of their decor and accessories!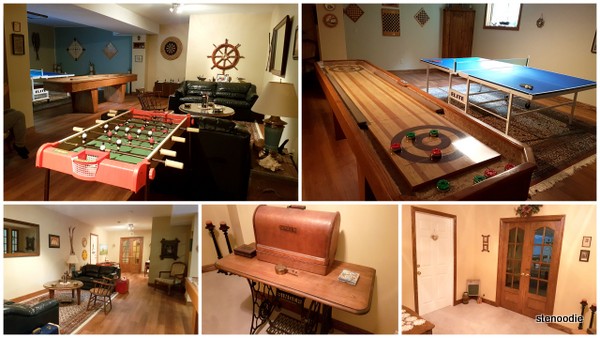 We then said goodbye to the best bed and breakfast host you could ask for. If you are looking for a one-of-a-kind stay that includes accommodations with a games room or sauna or a beautiful backyard and garden with lots of privacy as well as a generous homemade Finnish breakfast, check out Woodland Gardens Bed & Breakfast! (This was actually my very first bed and breakfast experience and I have to say that any other B & B that I stay in after this has really large shoes to fill!) Thank you, Lea and Jack, for your warm hospitality! Visit their website and e-mail them for all your reservation needs. They offer discounts for multiple room bookings as well!

Although the Municipality of Port Hope reached out and invited me to a complimentary visit to promote the businesses in Port Hope, the opinions expressed here represent my own and not those of the Municipality or businesses.
- Authored by Stenoodie