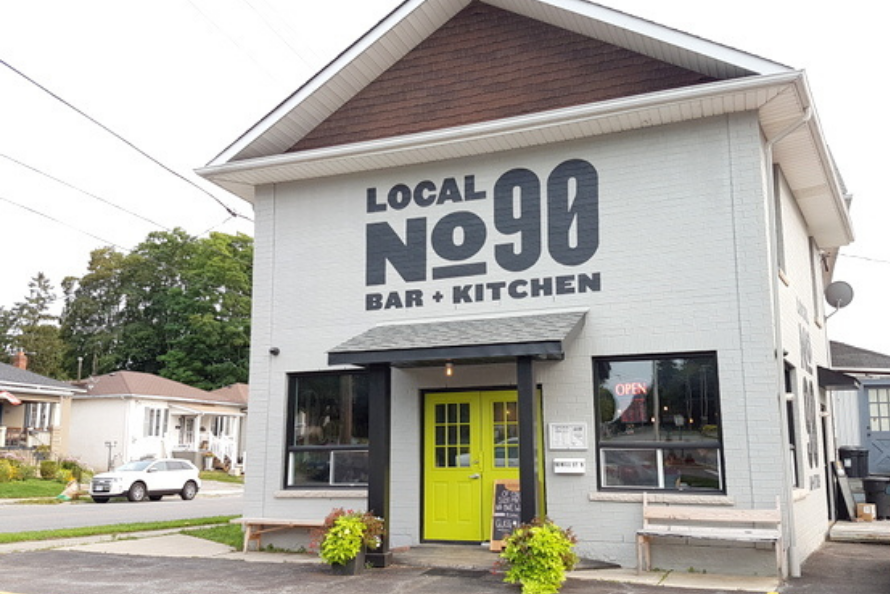 August 18, 2018: Local No90 Bar + Kitchen is a relatively new restaurant in downtown Port Hope, Ontario. This restaurant is a bar and grill that serves artisan savory pies and local shareable dishes as well as a host of rotating feature items. They also have wine on tap, local craft beers, and cocktails.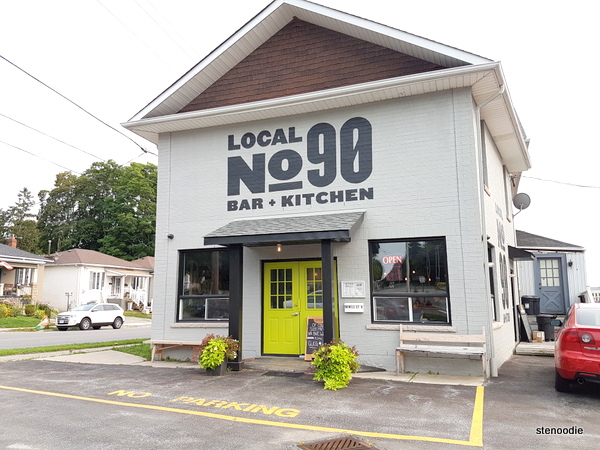 Local No90 is a restaurant right at Mill Street and Ontario Street. It's hard to miss this restaurant when you drive into downtown Port Hope from Highway 401 (it's right at the fork where you have to turn on either street). They have parking available on site.
I loved the modern bar area and look of the restaurant when we walked in. They have a snazzy and modern mural of "Port Hope" on the left wall too.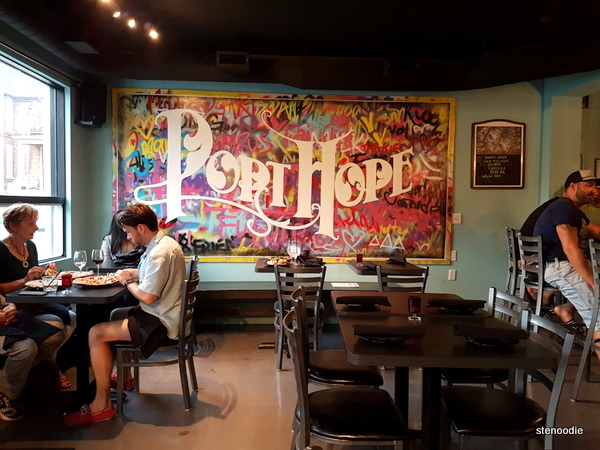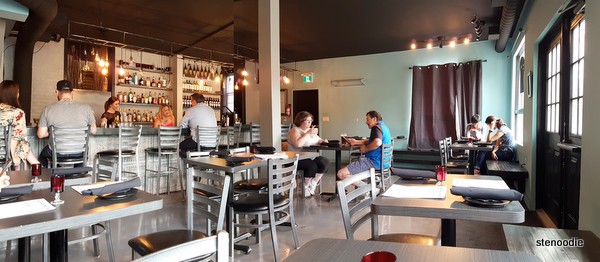 We were still a bit full from our amazing lunch which regrettably lessened our stomach space for dinner. As such, we ordered two PEI oysters, the Baked Portobello, Pizza No. 90, and the feature steamed mussels to share.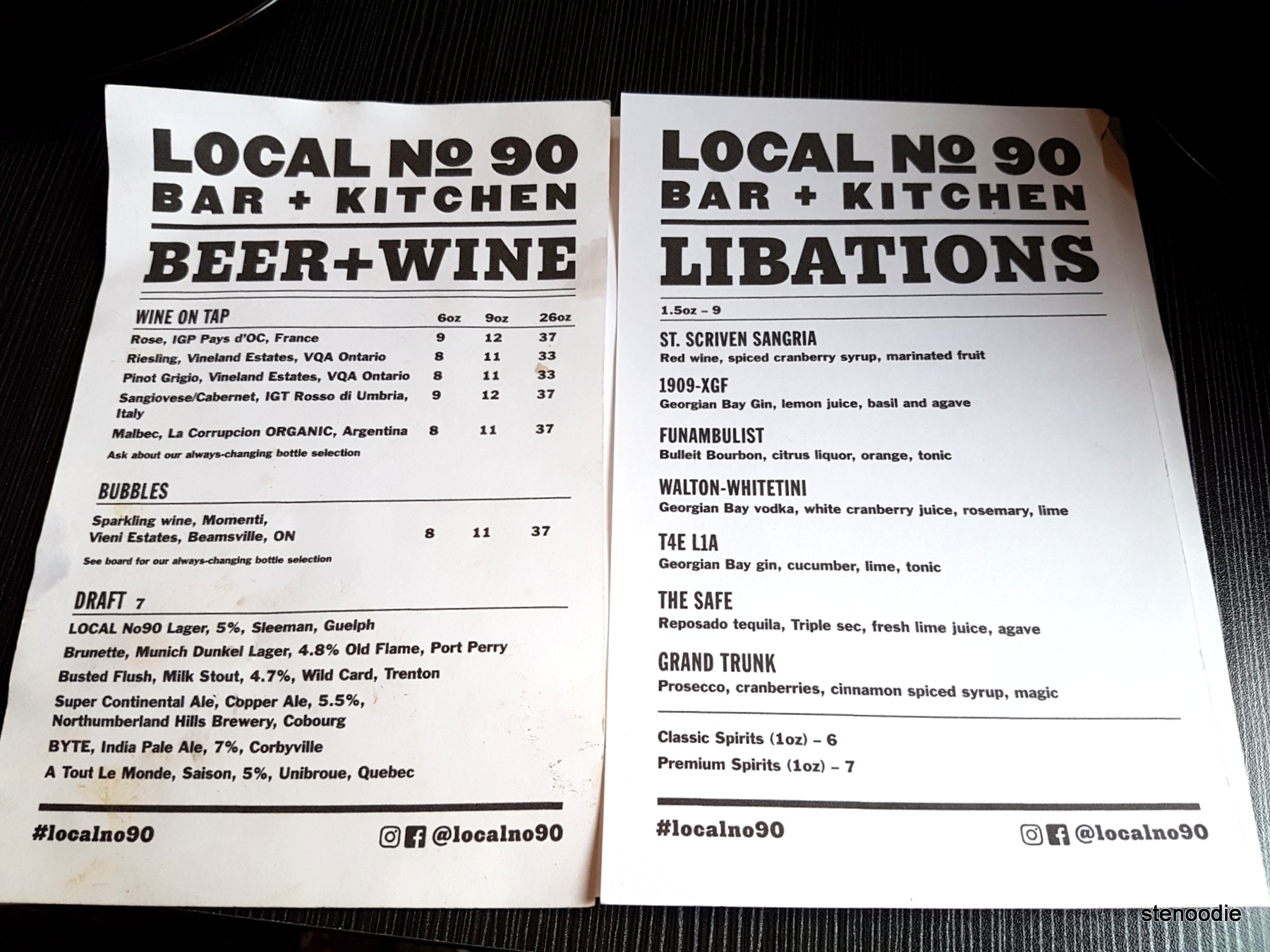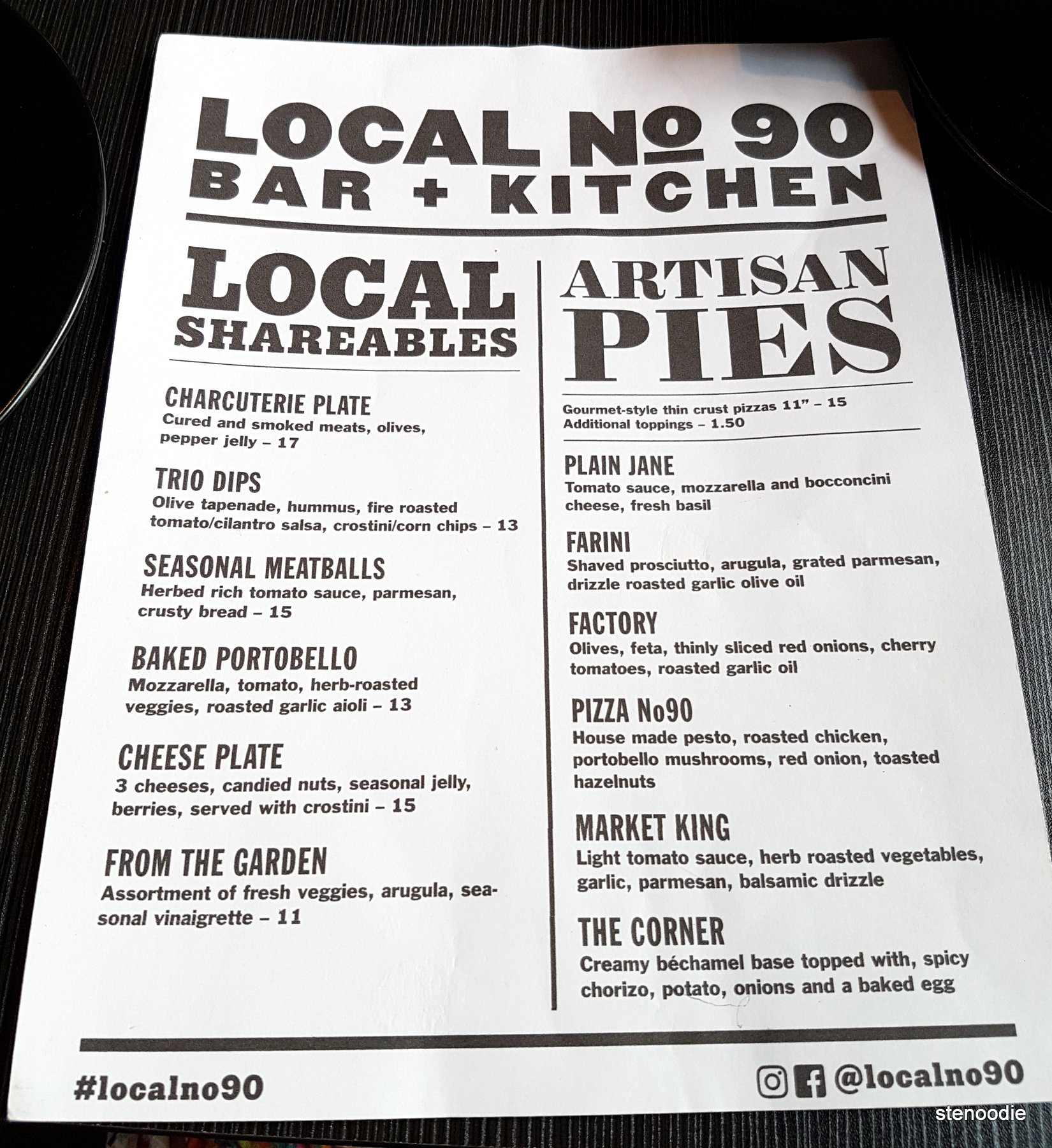 We also had the brown lager (which was fruity and had lime in it) and the Busted Flush, a milk stout, from Trenton. The brown lager was so light and fruity. I also appreciated how Dana brought me a sample to try first before ordering. (I love how all of their beers were locally sourced like from Guelph, Port Perry, Cobourg, etc.)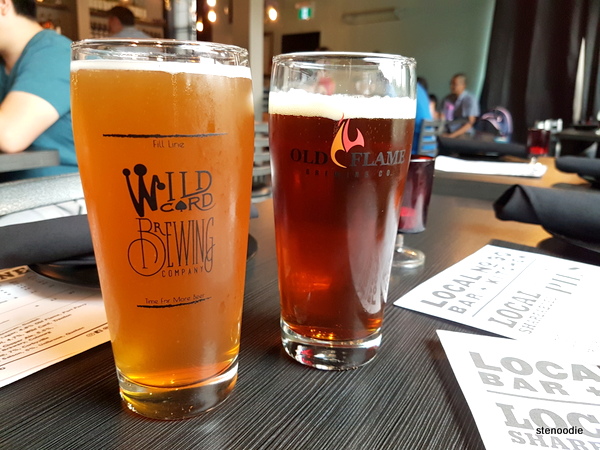 The PEI Oyster was delicious!! I love fresh raw oysters and this one was perfect. It was light and not too fleshly. The accompanying sauces were a light vinaigrette and a hot sauce. I wish I could have had more of their oysters!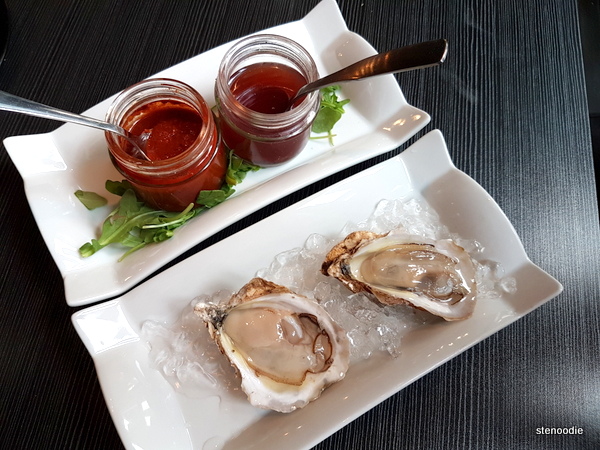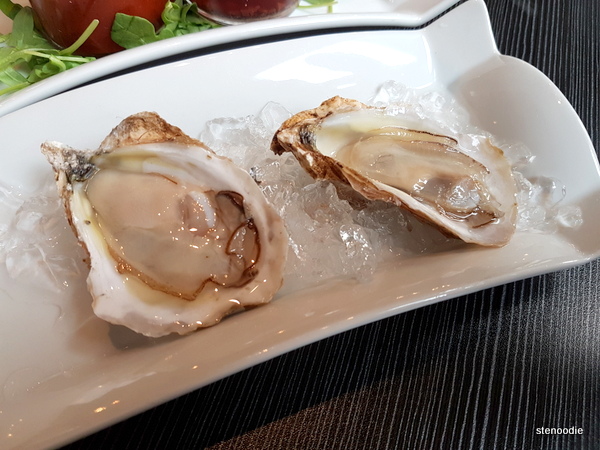 The Steamed Mussels came in a white wine, chipotle, garlic, and herbs broth and some toasted bread on the side. The broth was actually a lot spicier than I expected. Despite that, I loved sopping up the crunchy bread with the broth.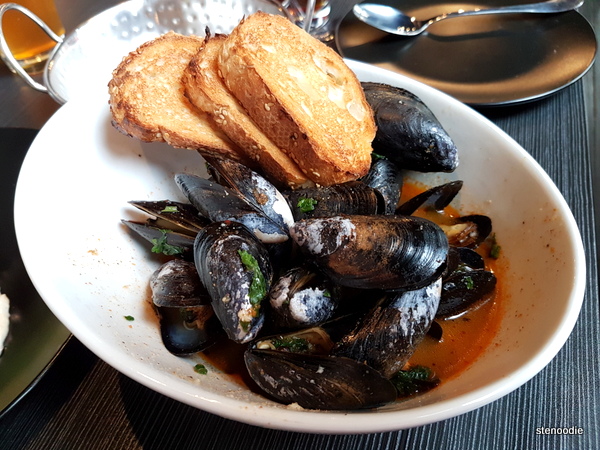 The Baked Portobello was amazing!! It came out piping hot with the melted mozzarella on it and beautiful accompanying vegetables on the side (chopped-up tomato and herb-roasted veggies) with a smear of roasted garlic aoili on the plate. Eating this portobello was akin to eating a pizza the way that you cut apart a piece where the mozzarella cheese strings are still attached to the main portobello. I especially loved and appreciated how steaming hot it was. This was an amazingly tasty shareable! The tangy roasted garlic aoili was perfect with the portobello as well.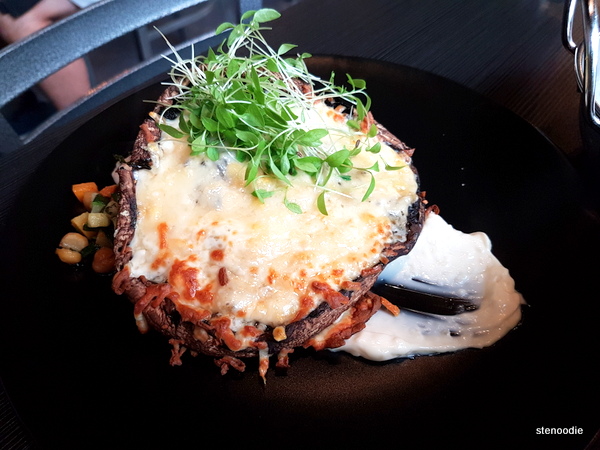 The namesake Pizza No90 was an 11″ gourmet-style thin crust pie with roasted chicken, portobello, red onions, and toasted hazelnuts on a homemade pesto sauce. This was a very thin crust pizza that was great for sharing. A sprinkle of chili flakes on it really hit the spot.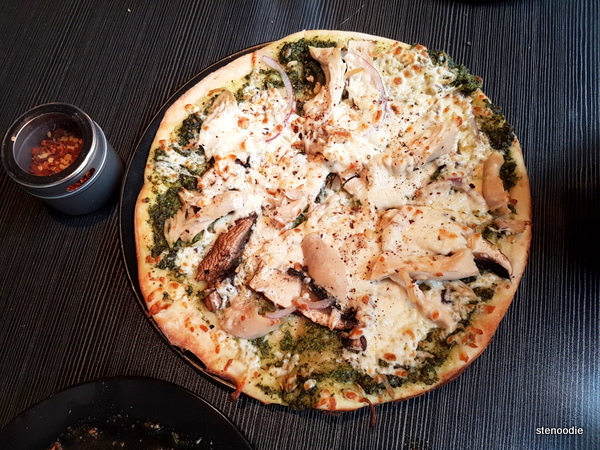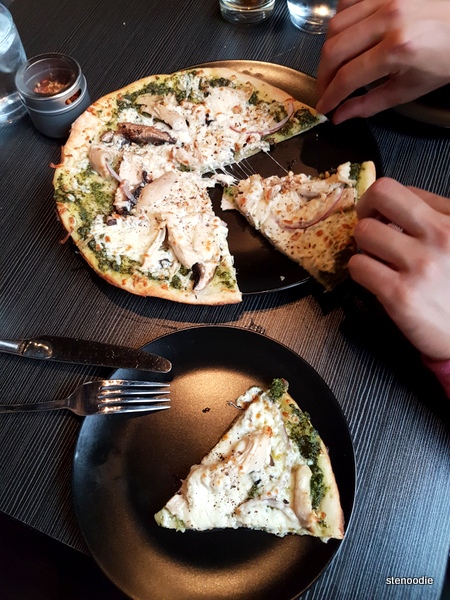 The cheesy mozzarella cheese was so stringy! I loved that.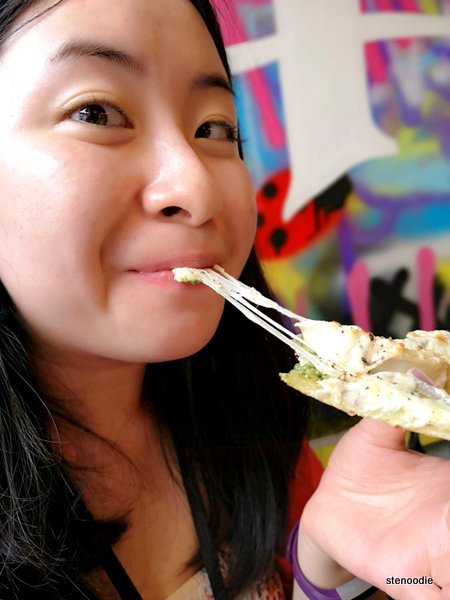 Unfortunately, we didn't get to try any desserts on account of a lack of time — we were heading to Capitol Theatre for a musical after dinner — (the salted caramel cheesecake and sorbet looked amazing), but hopefully there will be another chance in the future to try their desserts.
Thank you so much Dana and staff for the great food and hospitality!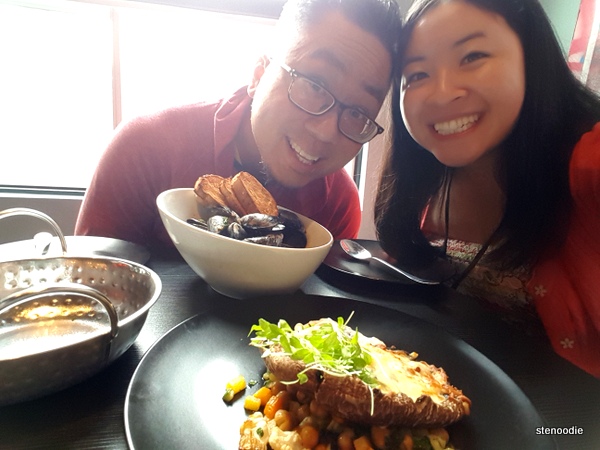 FTC Disclaimer: Although the Municipality of Port Hope reached out and invited me to a complimentary visit to promote the businesses in Port Hope, the opinions expressed here represent my own and not those of the Municipality or businesses.
Authored by, Stenoodie